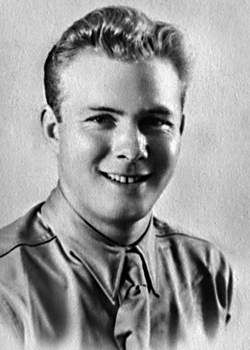 Myron E. Bateman
Biography: Myron E. Bateman was born in June of 1920, in Arroyo Grande, California. He was the son of M.C. and Louise Bateman and when he was still quite young, the family relocated to Loma Linda, CA. He attended local schools but left to work briefly at a poultry warehouse and then for the Civilian Conservation Corps.
Service Time: Myron entered the service on October 7, 1941, at Los Angeles, CA, and after his initial training, he was assigned to the 640th Tank Destroyer Battalion. They shipped out from the San Francisco port on September 4, 1942, en route to Hawaii. They arrived at Guadalcanal on February 5, 1944, and then shipped out to New Britain on May 3, 1944. They finally arrived in the Philippines, on January 9, 1945. The unit received credit for the campaigns of the Bismarck Archipelago, the Eastern Mandates, Luzon and the Southern Philippines.
Myron was awarded the Bronze Star during his service. He always maintained to his family he did nothing to deserve a medal having simply driven a jeep, "carrying some General", through an area marked for landmines. He always claimed it was pure luck he had made it through without a hitch. Myron left the service at the rank of Technician 5th Grade, on July 10, 1945, at Camp Beale, California.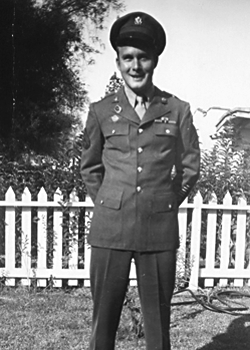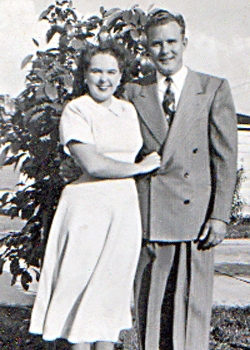 In 1948, he married Frances Triplett in South Gate, CA. In 1954, they moved to Whittier, CA where they raised their two children. Myron and Frances had met at a dance club, and they continued to enjoy dancing together throughout their marriage. Myron also enjoyed fishing and camping, and was a devoted CB radio fan. He was a member of the Whittier CB Radio Club, and his CB name or "handle", was Tool Kit because he had made his living as an office machine technician and always carried a tool kit. He loved helicopters, and made flying toy helicopters for his children to play with as well as making his own "gyro-copter". While he did not live long enough to see his grandchildren, his love of helicopters and flying was passed on to his grandson, who became a CH 47 pilot in the United States Army.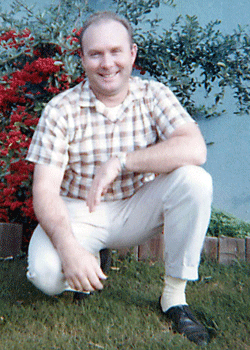 Myron was known as the nicest guy you could ever meet by all who knew him. He loved to make people laugh, and his daughter fondly remembers all the funny faces he would make. Myron passed away on June 24, 1975, and was buried in the Rose Hills Cemetery, Whittier, CA. He and Frances were happily married for 27 years.

I want to thank Myron's daughter, Debbie, for providing the information and photos for this tribute. I also want to thank RHare for providing the grave marker photo.