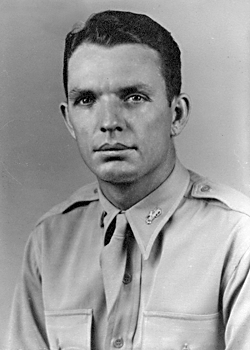 Byron D. Braly
Biography: Byron Dudly Braly was born on March 28, 1918, in Amarillo, Texas. He was the the son of James Neely Braly and Loretta Muldrow. He attended local schools but did not graduate. He worked in the family's general store before the depression and also did manual farm labor. Byron later joined the CCC (Civilian Conservation Corps) working on projects in the Los Angeles, California area.
Service Time: Byron enlisted in the Army in 1936, and started his military career in the Cavalry, at Fort Bliss, Texas. He was assigned to the First Cavalry Division, which at the time was commanded by Brigadier General Kenyon A. Joyce. He was sent to Manila in the Philippines and served there from 1938 through the end of October 1941. At some point, he also worked to complete his secondary schooling and receive his GED (General Equivalency Diploma).
He was assigned to the Reconnaissance Company of the 894th Tank Destroyer battalion and shipped out from the New York port on August 6, 1942, arriving in England on the 17th. Five months later they set sail again and arrived in North Africa on January 17, 1943. They were committed to battle on February 20th, at Kasserine Pass in Tunisia, and supported the capture of Bizerte.
The 894th landed in Italy in late October, 1943, located in vicinity of Pignataro in the Migniano sector as of December. Byron had received a field promotion and now held the rank of 2nd Lieutenant, serving as a 1st Platoon leader. On January 24th, Byron was awarded the Bronze Star by Lt. General Lucian Truscott at Castel Luccio, which was the command post for the 751st Tank Destroyer Battalion. The unit history mentions that there was snow and ice on the ground but the day was clear for the ceremony. His citation reads: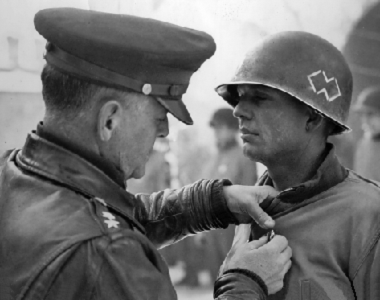 "While serving on the Fifth Army front in Italy with a tank destroyer unit of the 1st Armored Division, when his platoon leader was seriously wounded, Braly took command and led his platoon of tank destroyers in the successful completion of the assigned mission. Later, through his knowledge of infantry tactics, Braly led valuable services in organizing a defensive position and on another occasion he organized and supervised outposts and administrative duties until relieved by an officer."
The 894th was transferred to Anzio beachhead on January 25, 1944, where the battalion supported mainly British troops. They entered Rome in June and crossed the Arno River at Pisa in September but were mired at Porretta Terme in late 1944 to early 1945. They finally entered Genoa on April 27th. Byron had been injured by shrapnel from a German grenade, commonly known as a "potato masher". He was knocked out for a few days and told his family…"It was like getting kicked under the chin by a mule". He recoved in a French field hospital and received the Purple Heart in recognition of his injuries.
Byron remained in the service and was called upon to serve in the Korean War in 1952 and 1953. In 1958, he was stationed in the Panama Canal Zone and then sent to Santiago, Chile, where he served in the US Embassy there, specifically in the Military Attaché's office. It was during that time that he met Gabriela Enriqueta Patiño. She had been born in Santiago and was the daughter of Alberto Patiño and Teresa Olazo. The couple would marry on February 4, 1959.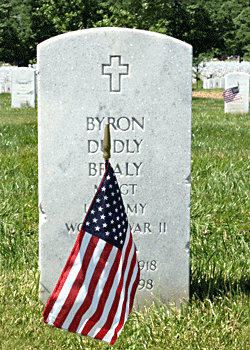 He was last stationed at Fort Ritchie, Pennsylvania, and was there until his retirement in 1963, after 26 years in the military. He left the service at the rank of Captain. Byron and Gabriela would make their residence in Wheaton, Maryland, and would have two children, Edwin born in 1961, and Jennifer born in 1966. Byron then worked in the shipping department of the Paul Wherres Corporation, which was a Raymond Lift-Truck dealer. In his spare time, he enjoyed reading about history and was also a member of the VFW.
Byron passed away on September 10, 1998, and was buried in Arlington National Cemetery in Arlington Virginia, I want to thank his son Ed for providing the information and photos for this tribute.