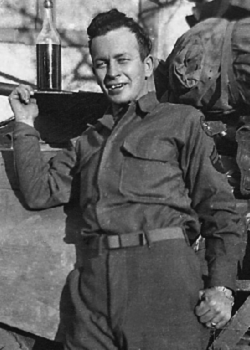 Ralph J. Brendel
Biography: Ralph Joseph Brendel was born on January 10, 1923, in Evansville, Indiana. He was the son of Albert Brendel and Commie White and attended local schools through the 12th grade. He continued his education in college for an additional year. His enlistment record indicates that he worked as an apprentice to other trades, which probably meant he had trained at a variety of skilled jobs while still attending school.
Service Time: Ralph entered the service on December 23, 1942, at Evansville and, at some point after his basic training, was assigned to the Reconnaissance Company of the 811th Tank Destroyer Battalion. The unit shipped out from the Boston port on September 5, 1944, and arrived at Cherbourg, France, on September 15th. They were equipped with M18 tank destroyers and moved to Luxembourg in November, participating in the Battle of the Bulge in December.
The battalion was scattered widely with portions attached to many divisions into January, 1945. The unit supported operations against the Siegfried Line in February and early March and advanced to the Rhine in late March, finally crossing the river on the 30th. They supported the 80th Infantry Division in the capture of Kassel, Germany, and advanced to Erfurt and Chemnitz, Germany, in April. They moved south and crossed the Danube River to Regensburg, entering Austria on May 5th.
The 811th received credit for three campaigns including Rhineland, Ardennes_Alsace and Central Europe. Ralph left the service at the rank of Technician 5th Grade.
Ralph returned to Indiana and went back to school, attending Evansville College, graduating with a degree in Electrical Engineering. He put his education to work when he was hired by the Whirlpool company, which at that point was changing back to producing consumer goods from its wartime manufacturing of aircraft parts.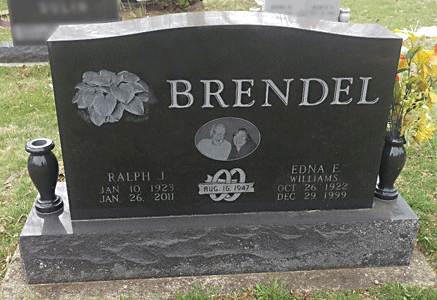 On August 1, 1947, he married the former Edna Williams and they were together for 51 years. In 1955, he left Whirlpool and started working for Neff Engineering, which specialized in hydraulic, pneumatic and electronic system design. He retired in 1988, after 32 years with the company.
He was also a member of the American Legion post in Zionsville, IN. Ralph passed away on January 26, 2011 and was buried in the Zionsville, Cemetery in Zionsville, IN.
I want to thank Jerry Jordan, for the main photo and Michele Thurston, for providing the grave marker image.