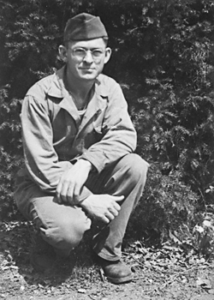 Guy L. Bebb
Biography: Guy Lavern Bebb was born on April 13, 1916, in Palmyra, Ohio. He was one of three sons and a daughter born to Donald Lavern Bebb and Elva Pauline Robinson. The family farmed and Guy graduated from the Portage County School in Palmyra in 1933.
His draft card, dated October 16, 1940, shows he was employed at Youngstown Sheet and Tube prior to the war.
Service Time: Guy entered the Army on March 1, 1941, at Cleveland, OH. We don't have information on his early time in the military but at some point, he was assigned to Company B of the 899th Tank Destroyer Battalion. The 899th shipped out from the New York port on January 13, 1943, and arrived at Casablanca, Morroco, on January 26, 1943. They were issued new M10 tank destroyers and deployed to the Gafsa-El Guettar sector of Tunisia on March 16, 1943.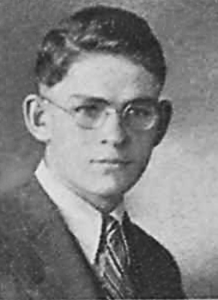 The unit established the first American contact with the British Eighth Army on 7 April, 1943. and later arrived at Naples, Italy, on November 10, 1943. They almost immediately shifted to the United Kingdom with some liaison personnel accompanying the second glider lift of the 82d Airborne Division during the invasion of Normandy. The rest of the battalion landed at Utah Beach on D-Day and helped capture Cherbourg in late June. The 899th supported the Cobra breakout in late July, advancing through Mayenne, France, and entering Belgium on September 2.
Guy was serving as a tank destroyer driver and his TD, along with three others, was in the vicinity of Chimay on the 3rd. Early that very foggy Sunday morning, with hedgerows on both sides of the road, they came to a crossroad and were immediately hit at point-blank range. The round was fired from a German howitzer, which had been set-up there in ambush. Technician Fifth Grade Guy L. Bebb was killed instantly and the gun commander and gunner were severely wounded. Both the radio operator and the gun-loader were badly burned. One of the other TDs was also destroyed, leaving two which were able to continue and destroy the German gun. Of the other crew members, Pfc. Paul F. Rohloff and SSgt. Forrest D. Brown survived. Cpl. Stanley J. Juva and Sgt. James Condron died of their wounds. Guy was awarded the Purple Heart and Good Conduct Medals.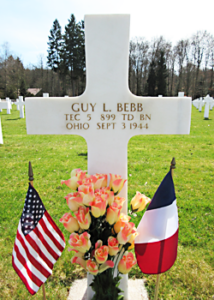 Guy was buried in the Epinal American Cemetery and Memorial, Epinal, Departement des Vosges, Lorraine, France. We would like to thank him for making the ultimate sacrifice for his county. Thank you to Guy's niece, Elizabeth, for providing the main photo and to Find A Grave contributor Andy for use of the grave marker photo.