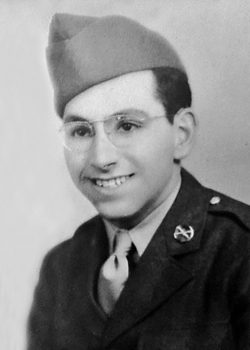 Louis J. Celentano
Biography: Louis Jerome Celetano "Lou" was born on April 14, 1921, in New Haven, Connecticut. He is the son of Thomas Celentano and Lucy Donaroumo and attended Hamilton Grammar School and Commercial High School, through the 10th grade. He then worked as a presser for a women's clothing manufacturer.
Service Time: Lou entered the service on September 15, 1942, at Hartford, Connecticut and was sent to Camp Hood, Texas, for eight weeks of training at the tank destroyers school, which including all aspects of TD weapons. He was assigned to A Company of the 825th Tank Destroyer Battalion. He qualified as an Expert with the carbine and TD Gunner.
The 825th sailed from the New York port on May 30th, 1944, aboard the Queen Elizabeth, arriving in Scotland on June 5th. After an additional 2 months of training, the men and equipment were loaded on LST's and arrived on Utah Beach in Normandy, France. They were equipped with 3″ towed guns and were initially assigned to the Communications Zone where they performed 12th Army Group security duties between August and December, 1944.
The battalion entered combat near Malmedy, Belgium, on December, 17th. The next morning, Lieutenant Doherty, commanding the 1st Platoon of A Company, sent his first and second gun squads, commanded by Sergeants John G. Armstrong and Jonas Whaley, with their half-tracks and 3′ guns across the Amblève River bridge at Stavelot. The third and fourth squads, commanded by Sergeants Martin Hauser and Lou Celentano, stayed on the right bank of the river with the aim of protecting the two first squads going up the Old Castle Road.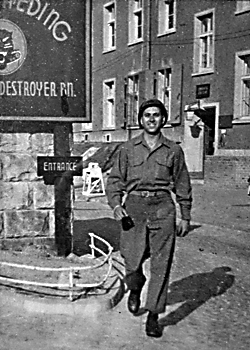 Meanwhile, the Germans had pulled a tank in a curve and began to shoot, hitting Sgt Armstrong's unit. Then, SS men used a burp gun to kill him and 5 other men of his crew who were trying to get out of the burning half-track. Sgt. Hauser's half-track was also destroyed and all the men sought refuge in nearby houses. The armored spearhead of Kampgruppe SS Joachim Peiper came near their goal of establishing a bridgehead across the River Meuse during the Battle of the Bulge. The determined American resistance, among them Sgt. Celentano and Sgt. Hauser, disrupted the German timetable and cost Peiper's tanks precious time.
Two 76mm antitank guns under Lieutenant Doherty were moved into position at Allée Verte to fire on the German tanks, a distance of about 650 yards. From across the river Lou and Sgt. Hauser's squads now aimed their guns at the tracks of the enemy tanks, disabling four of them. Sgt. Celentano decided to shoot down more of the buildings because they seemed to be hiding behind them. His gunner, Cpl Roy Ables and Hauser's, Cpl. Paul Lenzo, managed to stop the first and the last tanks of the column almost immediately. The antitank gun crews continued to load and fire the 76mm shells.
There were many shots fired and Lou's squad hit the turret of a second tank that was pointing its gun towards them. As the enemy armor rolled into Stavelot, a Tiger tank turned on Sgt. Hauser's position since his squad had moved from Allée Verte towards the Avenue Fredinand Nicolay. The Germans were on one end of the street and the Americans were on the other end. They fired their machine guns and hit the Tiger up on the turret also. The massive tank backed into a building, sending bricks crashing down upon it.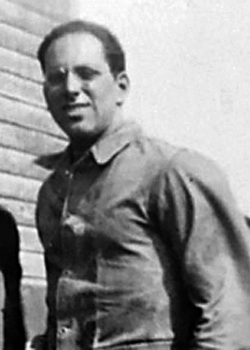 Lt. Doherty was groggy and had injuries to his mouth and legs. His driver, Earl Shugart, had right leg wounds and the driver of the Security Jeep, Sylvio Ferrigno, had some shrapnel wounds to his chest. Lt. Doherty was temporarily unable to command and Staff Sergeant Vester Lowe assumed command of A Company. He ordered his driver, Arthel Gibson, to put Lt. Doherty on the hood of the Jeep, told Sgt. Hauser and Cpl. Lenzo to destroy their gun, using a canister shell, and the rest of the third squad to get on the GMC ammunition truck and to escape to Malmedy.
As the result of this action, six men from 1st Section were killed and two were wounded. All the men of the second section sought refuge in nearby houses. Both Lou and Sgt. Hauser were awarded the Bronze Star for knocking out or disabling four German tanks.
The 825th returned to security duties on January, 16. 1945. They received credit for participation in the campaigns of Northern France, Ardennes-Alsace, Rhineland and Central Europe. Lou also received the Purple Heart, the EAME Medal, the WWII Victory and the American Campaign Medals as well as the Good Conduct Medal. He left the service at Fort Devens, Massachusetts on December 12, 1945. He held the rank of Sergeant.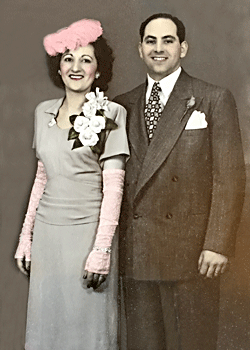 Honorable Discharge
Now back in the states, Lou worked again as a clothing presser but later as a dry-cleaning route salesman till 1970. He then worked as an auto parts sales manager until he retired in 1986. On January 25, 1947, he married the former Philomena Ann Piscitelli who had been born in New Haven CT. The couple would make their home in East Haven, CT and have one son, Thomas born in 1948.
In his spare time, Lou enjoyed golf, reading, singing and later in life, he took up painting. He was very active in the Boys and Girls Club and was also a member of the Knights of Columbus, Pine Grove Mens Club, Orange Hill Golf Club and Marrakech, which provides homes for disabled adults.
In 2010, Mary Hodson, secretary of the 825th TD Association, and her husband, took Lou back to Stavelot, Belgium, to visit Marcel Ozer. Marcel had helped Tony Calvanese and Léo Brunette find shelter and medical attention for Tony's wounds after their unit was hit by enemy fire. Marcel was also wounded in the shoulder but ignored his own wounds to help Tony. Marcel remained with Tony until allied troops were able to evacuate him.
You can see Lou and Marcel in the photo below left. Lou also visited the grave of Sgt. Armstrong, who had been killed during the actions described above. His grave is located at the Henri-Chapelle American Cemetery in Hombourg, Belgium.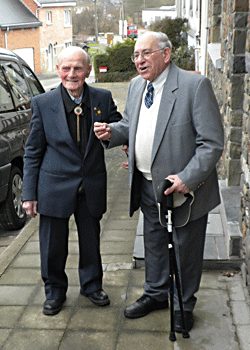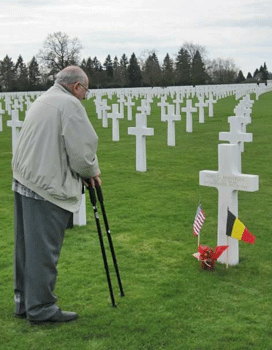 Interview with Lou – New Haven Register June 29, 2019
Lou passed away on September 29, 2020, and will be buried with his wife and son in the Saint Lawrence Cemetery, West Haven, CT. I also want to thank Serge Lemaire, Jeff Euben Mary Hodson and Mary Jane Celentano for their assistance with information and photos used in this tribute.