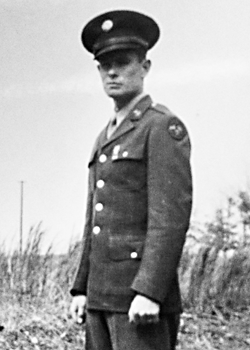 Walter D. Carwile, Jr.
Biography: Walter DeWitt Carwile, Jr. was born on March 13, 1922, in Rustburg, Virginia. He was the son of Walter D. Carwile Sr. and Hessie Mae Finch and graduated from Concord High School in 1940. He worked as a carpenter and sawmill operator at the Lynchburg Lumber Company.
He later worked as a carpenter for the Red River Ordinance Depot in New Boston, Texas, the New River Ordinance Plant in Dublin, Virginia and the Barger Brothers in Radford, VA. In 1941, he went to work for the Brown Construction Co. of Pennsylvania and in 1942, he worked for the Silas Mason Co. in TX.
Service Time: Walter entered the service on October 13, 1942, at Richmond, VA. After his initial training, he was assigned to the Reconnaissance Company of the 802nd Tank Destroyer Battalion. Walter received additional training as a light truck driver and heavy machine gunner. He qualified as a Marksman with the M1 Carbine.
The unit would receive training at a number of facilities within the U.S., including Camp Sutton, North Carolina, Fort Bragg, NC, Camp Hood, TX, Camp Polk and Camp Claibourne in Louisiana and they participated in maneuvers in both North Carolina and Louisiana.
They then proceeded to Camp Kilmer, New Jersey, to prepare for overseas shipment. The 802nd boarded the troopship Ile De France and set sail on April 7, 1944, from the New York port and arrived at the Firth of Clyde, Scotland, on April 15th. After three months of additional training, they boarded transports and landed on Utah Beach in Normandy, France on July 1st. They were equipped with 3″ towed guns and entered battle near Carentan on July 4th.
Advancing into Brittany in August, they supported the attack on St. Malo in August and then crossed France, entering Luxembourg on September 23rd. The unit supported operations against the Siegfried Line through November and then participated in the Battle of the Bulge in Luxembourg, in late December. The 802nd converted to M36 tank destroyers in February and March 1945, and then crossed the Rhine River at Wessel on April 2nd. They joined the elimination of the Ruhr Pocket, after which they took on occupation duties. The unit received credit for campaigns in Normandy, Northern France, Rhineland, the Ardennes and Central Europe. Walter received the Purple Heart with Oak Leaf Cluster, designating his two injuries, and the EAME, American Theater, World War II Victory and the Good Conduct Medals.
Now back in the U.S., Walter started a family on December 18, 1948, when he married the former Kathryn Mae Wingfield who was born in Lynchburg, VA, and was the daughter of Floyd Jackson Wingfield and Annie Mae Lawrence. The new couple would make their home in Lynchfield and have three daughters, Kathie, born in 1951, Cynthia in 1953 and Gwynne in 1956.
Walter went back to school and received a degree in accounting from Lynchburg College in 1950. He went to work for the Rubatex Corporation in Bedford, VA., which is a manufacturer of cellular rubber products. He would later work for the Elks National Home in Bedford, VA, as their Assistant Superintendent. In his spare time, he enjoyed fishing, collecting coins, pocket knives and old tools.
He was also a member of the Brookhill Wesleyan Church, the Benevolent Protective Order of the Elks and the American Heart Organization. Walter passed away on November 21, 1994, and was buried in the New Chapel Baptist Church Cemetery in Rustburg, VA. I want to thank Walter's daughter, Kathie, for providing the main photo and information used in this tribute. I also want to thank Find A Grave contributor Elwood Morgan for the use of the grave marker photo.