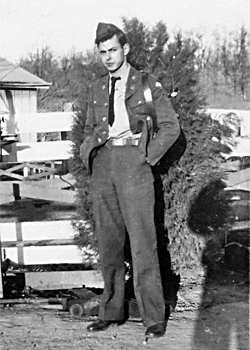 Charles E. Collins
Biography: Charles Edward Collins was born on December 13, 1919. He was the son of Charles H. Collins and Wilson Elizabeth Montague and attended Bluffs Elementary and then graduated from Bluffs High School. He then worked as an automotive serviceman.
Service Time: Charles entered the Army on August 20, 1940, at Peoria, Illinois. He received training at a number of military facilities, including Fort Bragg, North Carolina, Fort Sill, Oklahoma and Fort Hood, Texas. He was assigned to Company A of the 609th Tank Destroyer Battalion but it is believed that he was later transferred to Company C. His records also indicate that he received 12 weeks specialized training in communications in 1941, and then 8 weeks training in radio and electrical in 1943. His military specialty was radio repairman.
The unit shipped out from the New York port on August 11, 1944, and arrived in England on the 22nd. After less than a month of preparations, they boarded transports and shipped to France, landed at Utah Beach, on September 20th. They were equipped with M18 tank destroyers and went into Corps Reserve, beginning on the 28th. The unit was positioned east of Moutier, France, where crews fired artillery missions through October.
The 609th joined operations against the Siegfried Line in November and early December and most of Company C moved to Bastogne on December 18th with 10th Armored Division. The remainder of the battalion fought along the Sauer River and the entire battalion fought to eliminate the Bulge in January 1945. They were then deployed to the Saar-Moselle triangle in February.
Participating in the capture of Trier in March, they supported the attack south and east out of the Mannheim bridgehead across the Rhine in late March and April and reached southern Bavaria, near Füssen, by the end of the month.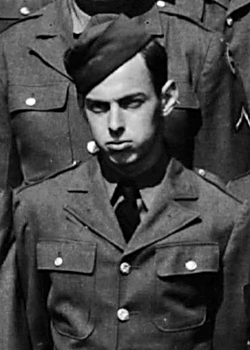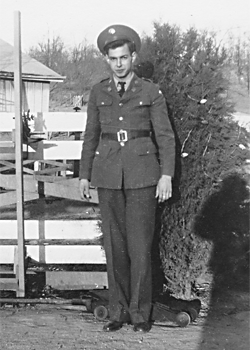 Charles finished out his military service as part of the Headquarters Battery of the 423rd Armored Field Artillery Battalion. He shipped home on October 7, 1945, was discharged on October 25th, at Camp Grant, Illinois. At the time of his discharge, he held the rank of Technician 5th Grade but he had previously served as a Staff Sergeant. He received credit for the campaigns of Rhineland, Ardennes-Alsace and Central Europe. He was awarded the EAME, American Theater, American Defense and Good Conduct Medals along with the Distinguished Unit Badge in recognition of Company C's actions in defense of the city of Bastogne, Belgium.
Now back in the U.S., Charles found work with the Wabash and Southern Railroad as a signal maintenance technician. On January 5, 1953, he married the former Ardena June Tyler, who was born in Stonington, IL, and was the daughter of Wheeler Tyler and Stella Beck. The new couple would make their home in Springfield, IL and have two daughters, Linda, born in 1953, and Kathy in 1955. In addition to his work and spending time with his family, Charles was a member of the American Legion and the Fraternal Order of Eagles.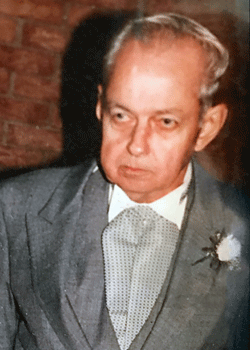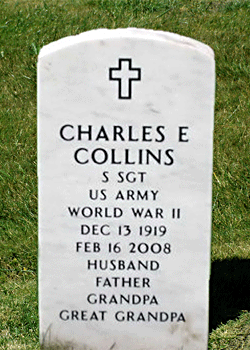 Charles passed away on February 16, 2008, and was buried in the Camp Butler National Cemetery in Springfield, IL. I want to thank Charles' daughter, Linda, for providing the information and photos/materials for this tribute.