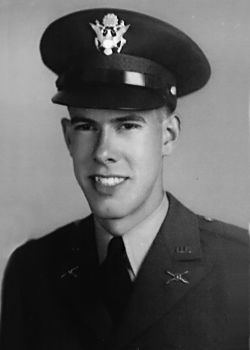 Willis F. Cole
Biography: Willis Fisher Cole Jr. was born on March 14, 1919, in Denver, Colorado. He was the son of Willis F. Cole Sr. and some sources indicate that his mother's name was Mabel V. Smith. When he filled out his draft card on October 16, 1940, he was living in San Pedro, California, where he had attended high school.
Service Time: Willis entered the service and would serve in the Coast Guard Artillery. He is listed as a 1st Lieutenant while still serving in the artillery but he was eventually assigned to the 776th Tank Destroyer battalion in June of 1944. The 776th had shipped overseas in December, 1942, equipped with M10 tank destroyers and saw their first action in the area of Maknassy and Ferryville, Tunisia. From Tunisia, the 776th went on to Italy where they were involved in the battles at Cassino, the Volturno River crossings and the breakthrough to Rome.
In June of 1944, when Cpt. Louis J. Wadle joined the battalion staff as Operations Officer, 1st Lieutenant Cole took over command of Company A. He was promoted to Captain and the 776th was transferred to France. They were re-equipped with M36 tank destroyers and supported the 44th Infantry Division during the German Nordwind Offensive. In January 1945, they claimed first Jagdtiger destroyed on the Western front. They attacked the Siegfried Line near Omersheim, Germany, and crossed the Rhine River near Worms in March, 1945. Participated in the capture of Mannheim, Heidelberg, and Ulm, Germany, and crossed the Danube in April, 1945. The unit ended the war in Ehrwald, Austria.
We have minimal information regarding Willis after the war but we do know that on April 28, 1946, he married the former Bertie Bernice Edwards, who was born in Oklahoma and was the daughter of Walter Edwards and Maudien Canterbury. Willis passed away on October 27, 1990 in Las Vegas, Nevada.
I want to thank Mel Glover, Assistant Curator of the National Museum of Military Vehicles in Dubois, Wyoming, for providing information and the photo of Willis for this tribute.