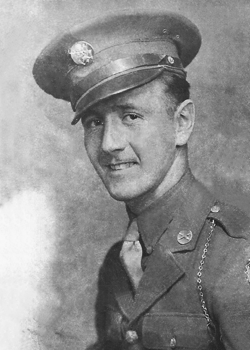 John J. Cuneo
Biography: John J. Cuneo was born on December 15, 1921, in New York City, NY and was the son of Joseph Cumeo and Mamie Demartini and attended local schools in New York through the 10th grade. He joined the New York National Guard on February 26, 1940.
Service Time: John entered the service on January 27, 1941, at Buffalo, NY. He was assigned to Company B of the 771st Tank Destroyer Battalion, which shipped out from the New York port on October 21, 1943 and arrived at Liverpool, England on November 2nd. The 771st was chosen to train other TD personnel in the ETO Troop Replacement system and company A would move out and act as an advanced unit to ship to France in late August. The rest of the battalion would ship out on September 15th and join them on the mainland, equipped with M10s.
The 771st entered combat with the 102nd Infantry Division against the Siegfried Line defenses along the Würm River on November 3, 1944. They participated in the drive to the Roer River and held defensive positions there during December. The unit converted to M36 tank destroyers in January 1945.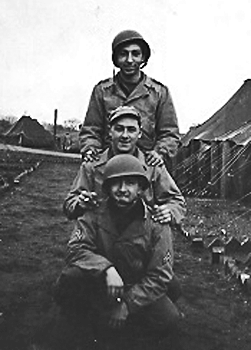 In the photo on left, you can see John in the front, with an unidentified man in the middle and John's close friend, Frank A. Bergonzi, standing in back. John and Frank grew up together in the Little Italy area of New York City and served together in the National Guard.
Later in the month, portions of the unit were used for direct fire, in preparation for Operation Swift. They were positioned on a ridge near Lindern, Germany and fired at buildings on the opposite bank of the Roer river. They also used .50 caliber machine guns for covering fire, sweeping the east bank of the river. The After Action Reports identify that this was the fifth time they were used for a direct fire mission. On January 22nd, all companies were moved into proper positions for jump-off of Operation Swift, in the vicinity of Lindern and Linnich, Germany. It was on this same date that Corporal John J. Cuneo was killed in action.
We are uncertain of the circumstances of John's death but his hospital admission file states that his death was accidental, due to a blast or explosion and was considered non-battle and not directly related to the enemy. On that same day, five other men from Company B were killed in non-battle circumstances. We do not know if these deaths are connected but it may have been in preparation for the upcoming operation. It was part of a tank destroyer soldier's training, to create explosive charges for the demolition of pillboxes and other enemy threats. The names of the other men are as follows, Cpl. Frank A. Bergonzi, mentioned earlier in this tribute, Pvt. Rosario J. Maniscalco, T5 Anthony Muscente, T5 John G. Pinto and Pvt. Frank M. Reese.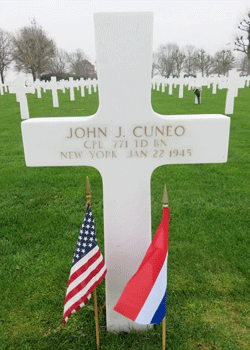 John would have been initially buried in a temporary cemetery at Margraten, Netherlands. He was later moved too his final place of rest in Plot E, Row 4, Grave 17.
I want to thank Louis Bergonzi for providing the main photo of John and information for this tribute. I also want to thank Find A Grave contributor, Andy, for the use of the grave marker image.