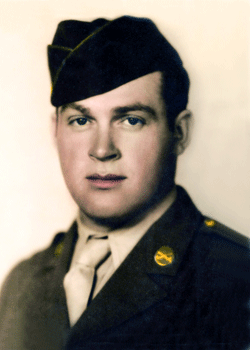 Edgar B. Carpenter
Biography: Edgar Bernard Carpenter, "Ed", was born on August 26, 1918, in Glendale, California. He attended local schools in Canton, Connecticut through the 12th grade.
After graduating, he found work with the United Tool & Die Company located in Hartford, CT.
Service Time: Ed entered the service on March 27, 1942, at Hartford, CT. After his basic training, he was assigned to the 701st Tank Destroyer Battalion.
The unit shipped out from the New York port on May 31, 1942, and arrived at Belfast, Northern Ireland, on June 11th. Companies B and C, along with one platoon of Recon Company, participated in the Operation Torch landings on November 8th, near Oran, Algeria.
Those companies advanced toward Tunisia, beginning on November 16th with the rest of the battalion reaching North Africa on December 10th. While in Tunisia, they were usually attached to the 1st Armored or 1st Infantry Divisions, during actions at El Guettar, Faid Pass, Sidi Bou Zid, Sbeitla, Hill 609, and Mateur.
The 701st shipped to Italy in October, 1943, and entered the line in the Pagnataro area. Their Tank Destroyers operated largely as artillery and for much of early 1944, the battalion was attached to II or VI Corps in Cassino sector. They were then shipped to the Anzio beachhead in February, 1944, and supported the 1st Armored Division during their breakout in late May, entering Rome on June 4th. By the end of June, Company B was just south of Radicondoli, Italy, attached to CCA (Combat Command A).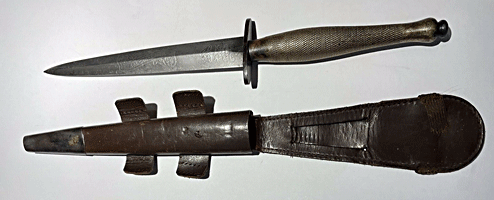 The 701st received credit for campaigns in Algeria/French Morocco, Tunisia, Naples/Foggia, Rome Arno, North Apennines and the Po Valley. Edgar received the Bronze Star Medal and shared in the unit's award of the Croix de Guerre.
The knife shown above was owned by Ed during the WWII period and the blade is engraved with his name. It is identified as a Wilkinson Sword FS (Fairbairn Sykes) Commando Fighting Knife and is about 11.5 inches in length.
After arriving back in the U.S., Ed returned to school, graduating from Worchester Polytechnic Institute with a Bachelor's degree in both Mechanical and Electrical Engineering. While in college, he was a member of the Sigma Phi Epsilon fraternity. He then worked for the Elevator Division of Westinghouse Electric Corporation and was instrumental in the sale and installation of many of the elevators in Connecticut's modern buildings.
Ed would go on to have a family and enjoyed playing bridge and tennis and won several golf tournaments. He was a long-time volunteer fire fighter and was a Little League coach for many years. He retired from Westinghouse after 32 years, which provided additional time to travel the world including destinations in Europe and Asia.
Ed passed away on December 30, 2012.