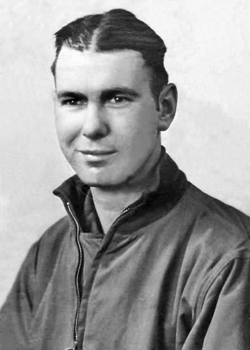 Charles L. Catherman, Jr.
Biography: Charles Luther Catherman, Jr. was born on March 15, 1917, in Williamsport, Pennsylvania. He was the son of Charles Luther Catherman Sr. and Alice Coyle and attended Central High School in Philadelphia through the 10th grade.
During the financially difficult years before the war, Charles found work with the CCC (Civilian Conservation Corps).
Service Time: Charles initially enlisted on March 10, 1936, in Philadelphia. After his initial training, he was assigned to the Cavalry and later served with the 6th Field Artillery at Fort Hoyle, Maryland. He was discharged on March 9, 1939, at Fort Hoyle.
Charles reenlisted that same day and was sent to Fort Hood, Texas, for an 8-week service school for radio operation. He would serve as a Radio Operator (Low Speed) installing and operating radio transmitters throughout the war. Records indicate that he was able to do 20 words a minute in Morse Code. He also qualified as an Expert with the 75mm gun and M1.
On July 20, 1942, Charles was promoted to Technician 5th Grade and assigned to Company A of the 893rd Tank Destroyer Battalion. The 893rd was the first unit to arrive at the newly established TDC (Tank Destroyer Center) and it would be their soldiers that were utilized as Tank Destroyer School Troops. The 893rd would contribute hundreds of men to the various units that passed through the TDC.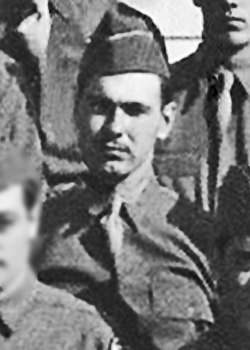 The 893rd moved to Camp Shelby, Mississippi, in early 1943, and participated in the Louisiana Maneuvers. It is unclear when he was transferred but he was assigned to the 1st Tank Destroyer Brigade, which was stationed at Camp Claiborne, LA, beginning on February 26th. His name shows up on their Thanksgiving menu from November of 1943.
Although the 1st TD Brigade shipped out from the U.S. on January 2, 1944, Charles didn't ship out with the unit, he shipped out twenty days later on the 22nd, aboard the Queen Mary. He may have been ill or had other assignments that delayed his departure. Charles arrived in Greenock, Scotland on the 30th and probably rejoined the unit soon thereafter.
After a little more than a week, the 1st TD Brigade boarded transports and shipped to France, arriving on July 11th. The 1st TD Brigade was utilized to create "Task Force A" and given command of armored forces on the Brittany Peninsula, after the breakout at Avranches. They acted as a separate combat command unit under VIII Corps. "Task Force A" was broken up after the completion of the mission on Sep. 22, 1944, when they joined the Third Army and became their tank destroyer command unit, on September 30th. They continued in that new function until the end of war when they took on occupational duties in Germany.
Charles shipped home on September 7, 1945, from Marseilles, France, aboard the USS General J.C. Breckinridge. He arrived back in the U.S. on the 16th at the Hampton Road port in Newport News, Virginia. He left the service on September 25th, 1945, at the Indiantown Gap Military Reservation. He received credit for campaigns in Normandy, Northern France, Rhineland, Ardennes and Central Europe and was awarded the Bronze Star, Good Conduct, American Defense Service, European, African, Middle Eastern Service Medals and the Purple Heart in recognition of wounds he suffered. At the time of his discharge, he held the rank of Technician 4th Grade.
After the war, Charles married the former Dolores J. Schultz, on October 24, 1945. Dolores was born in Baltimore, MD, and was the daughter of Sylvester W. Schultz and Jennie L. Wacker. The new couple would make their home in Baltimore. Charles found work as a Baltimore City Fireman and he and Dolores had two children, Charles born in 1947, and Dolores in 1948.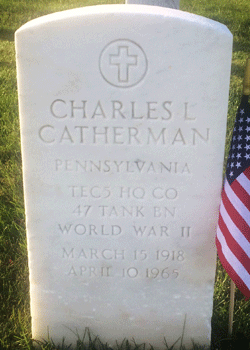 Charles passed away on April 10, 1965, and was buried in the Baltimore National Cemetery in Baltimore, MD. I want to thank Charles' son for providing the information and main photo for this tribute. Thank you also to Find A Grave contributor Miles M, for the grave marker photo.