Glenn W. Coup
Biography: Glenn was born on Feb 5, 1921, in Old Lycoming Township, Pennsylvania, where he attended Williamsport High School and graduated in 1940. Prior to the war, he worked as a machinist at the Avco plant, now known as Textron Lycoming. While there, he worked on the R-680 engine, which was used on Navy trainer planes.
Service Time: He entered into active service on March 31st, 1944, but early in his service time, he was given furloughs of 2 to 6 months to permit him to continue working at the Avco plant until a replacement machinist could be found.
Glenn eventually did enter active service and spent three months in basic training as a Private, then 10 months in training and on duty as a cannoneer with an unspecified unit which also involved a promotion to Pfc. He was eventually assigned to the 6th Tank Destroyer Group and stationed with them at the Dachau Concentration Camp in Germany. During is time with the unit, his military specialty was Light Truck Driver. He finally left the service at the Fort Dix, New Jersey, Separation Center on May 22, 1946.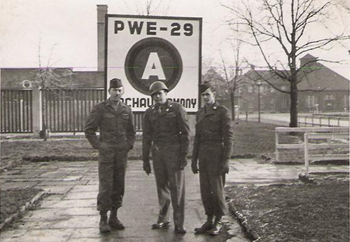 The photo on left shows Glenn standing in center with two unnamed soldiers. The sign behind them identifies the location as the Prisoner of War Enclosure, #29 in Dachau, Germany. I believe the Large "A" in a circle is probably the Third Army emblem designating that the area was under the control of the Third Army.
Glenn returned home and married the former Anna Horn Null. The new couple would have three boys and a girl, Samuel, Charlene, Keith and Andrew. The couple also raised Virginia, who was Anna's daughter from her first marriage.
During his life and into his later years, he enjoyed both gardening and woodworking. He passed away on May 12, 1993.
I want to thank Glenn's grandson, Sam who provided the information photos used for this tribute.