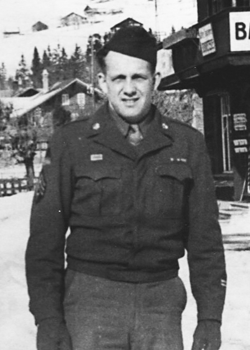 Eugene D. Carr
Biography: Eugene Delbert Carr, "Gene", was born on July 22, 1924, in Hinckley, Illinois. He was the 5th of 15 children born to Archie William Carr and Wilhelmina Sophia Troeger. Gene attended local schools through the 8th grade and then worked for his father on the family farm. The family moved to Michigan in 1937.
Service Time: Gene entered the service on August 31, 1944, at Detroit, MI. He completed his basic training at Fort Sheridan, IL, and was then sent to Camp Hood, Texas, for additional training as a replacement for a tank destroyer unit. He received specialized training and both his Driver and Mechanic's badge. He also qualified as a Marksman with the rifle.
Gene shipped out from the New York port on January 24, 1945, aboard the Queen Mary and arrived in Gourock, Scotland on the 30th. By February 4th, he had arrived in Germany and was assigned to Company A of the 702nd Tank Destroyer Battalion, where he served as a driver of one of the unit's M36 tank destroyers. They crossed the Roer River on February 28th, and then the Rhine River a month later on March 28th when they participated in the encirclement of the Ruhr Pocket, reaching the Weser River on April 4th. They finally reached the Elbe River near Magdeburg, after which they took on occupation duties. Gene received credit for two of the unit's campaigns, Rhineland and Central Europe.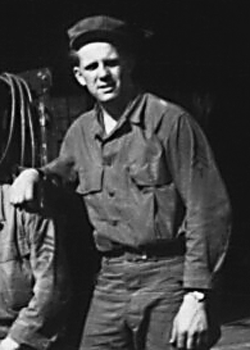 Gene's late entry into combat meant that he didn't have enough points to ship home immediately after the war had ended. He was reassigned to Battery A of the 78th Field Artillery Battalion, serving as a driver of one of the unit's M7, 105mm self-propelled howitzers. He was additionally assigned to the motor pool and drove various vehicles and was responsible for keeping the vehicles in good working order. At the time, they were stationed in Bad Bruckenau, Germany.
He was promoted to Technician 5th grade in September and in May of 1946, he was promoted to Technician 4th Grade. Three weeks before shipping home, he became acting First Sergeant, which was offered to him permanently if he remained in the service for another six months, but he decided to go home. Gene shipped home aboard the Victory ship, SS Gustavus Victory and arrived back in the U.S. on June 24th. The ship was launched in July of 1945, and had been constructed in only 38 days. Gene was discharged on the 29th at Camp Atterbury, Indiana, and was awarded the EAME, WWII Victory, Occupation of Germany and Good Conduct Medals.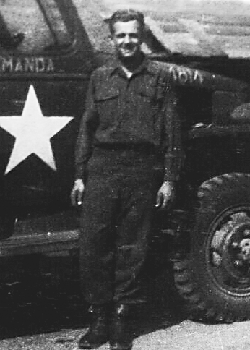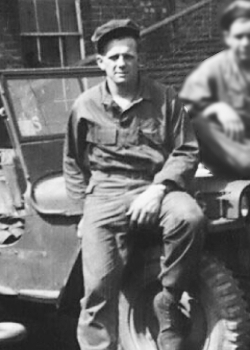 After returning home, Gene married the former Helen Louise Wright who was born in Paw Paw, Michigan, and was the daughter of Fremont C. Wright and Florence Adams. The new couple would make their home in Lawrence, MI, and have two daughters, Patricia, in 1950, and Bonnie in 1955. Gene worked as a plant supervisor and truck driver. In his spare time, he enjoyed travelling and collecting tractors. He was also a member of the Lawrence United Methodist Church, the American Legion and served on the Lawrence Village City Council and was the Mayor for 7-1/2 years. He and Helen traveled to all 50 states and he loved to tell anyone who would listen about their trips. Although Gene had not gone beyond the eight grade prior to the war, he went back to school and received his high school diploma when his daughter Bonnie graduated.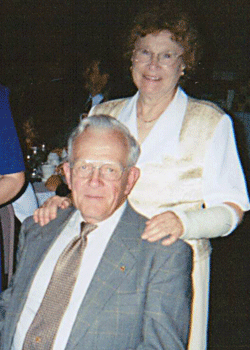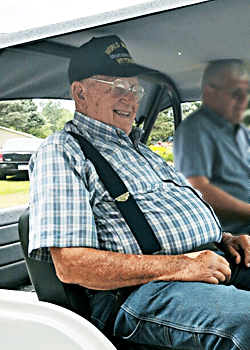 The photo above left shows Gene and Helen at a wedding in 2000. The photo on right is Gene in a Jeep is once owned but had since been restored by another family member. It was his first ride in the Jeep in over 10 years.
Gene's life can be summarized as a testament to his devotion to God, his family and his country. He passed away on March 2, 2022, and was buried in the Hill Cemetery in Lawrence, Michigan. I want to thank Gene's great-nephew, David, for providing the information and photos used in this tribute.