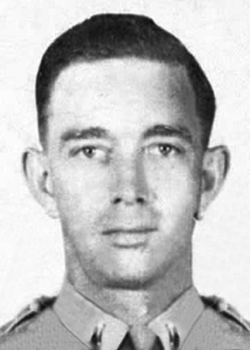 Edwin M. Cage
Biography: Edwin Menton Cage, "Ed", was born on October 27, 1917, in Mercedes, Texas. He was the son of Guy Edwin Cage and Margaret Menton Cage and graduated from North Dallas High School, where he was the valedictorian. He continued his education at George Washington University in Washington D.C., on a full academic scholarship.
He earned both his bachelor's and juris doctor degrees at the school and was a member of Kappa Sigma and the prestigious Phi Beta Kappa Society. He was also a member of the Order of the Coif, for which only the top ten percent of law students are eligible.
After graduation, he remained in Washington D.C. and worked for the Department of Justice. It was in D.C. that he met the love of his life on December 7, 1941, which was the day Pearl Harbor was bombed.
Service Time: Ed entered the service on February 25, 1942, at Camp Lee, Virginia. He was sent for basic training and was soon selected to attended OCS (Officer Candidate School). He was sent to Camp Hood, Texas, and graduated with their OCS Class 28, on September 3, 1942, receiving the rank of 2nd Lieutenant in the Field Artillery. He was initially stationed at Fort Sam Houston in San Antonio, TX.
On September 4th, while on leave, Ed married the former Eileen O'Malley who was the daughter of Raymond and Margaret M. O'Malley and was from Perry, Iowa. The service was held at the Sacred Heart Cathedral in Dallas, TX. Ed always referred to Eileen as his "beautiful Irish bride," and as mentioned before, they had met on Pearl Harbor Day. The words "Remember Pearl Harbor" were inscribed on Eileen's wedding band and the couple would celebrate the day throughout their marriage.
He was eventually assigned to Headquarters Company of the 602nd Tank Destroyer Battalion and served as Adjutant. The unit had moved to Camp Hood for specialized training and was one of the first units to train there.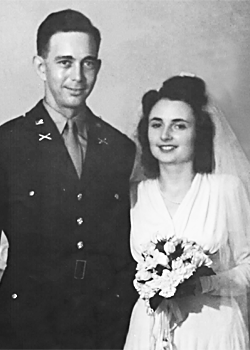 While at the camp the 602nd was equipped with M3 Tank Destroyers and when their training there was completed, they moved to Camp Bowie, TX, for field exercises to test their combat readiness. On December 15th, they moved to Camp McCoy, Wisconsin, to prepare for "Winter Warfare," which was implemented in February and March during maneuvers in northern Michigan.
After the maneuvers, the unit returned to Camp McCoy and was issued M10 Tank Destroyers. In late summer of 1943, they were ordered to assist with the wheat harvest and on August 4th, they traveled by convoy to North Dakota with the HQ Company stationed in Minot. After six weeks in the wheat fields, the unit traveled back to Camp McCoy on September 21st. On November 11th, they traveled to Tennessee for maneuvers with tank forces commanded by General Patton. Once there, the 602nd turned in their M10s for M18 Tank Destroyers.
The unit shipped out on July 18, 1944, from the New York port, aboard the S.S. Bergensfjord and arrived in Scotland on July 29th. A month later they landed at Omaha Beach on August 26th. They were committed to battle along the Moselle River on September 9th and supported operations leading to the capture of Metz, France, in November. Ed's French language skills would be of great assistance to the unit as he would serve as an interpreter. The 602nd was transferred to Belgium during the Ardennes Offensive, arriving at Neufchateau on December 21st. Supporting operations against the Bulge in January, 1945, they fought through the Siegfried Line in February and then returned to the Moselle River area in March. The unit crossed the Rhine River at Boppard on March 26th and advanced through Gotha, Eisenach, and Zwickau in April. They then took up occupational duties.
Letter Home – Belgium, February 27, 1945
Ed received credit for four campaigns including Northern France, Rhineland, Ardennes-Alsace and Central Europe. He was awarded the Bronze Star, the EAME, the American Theater and the WWII Victory Medals. He was transferred to the Finance Department of the USGCC (United States Group Control Council) in Germany, which was created on May 8, 1945. The USGCC was formed to administer the U.S. areas of Germany and Berlin after the war. Ed shipped back to the U.S. on November 3rd, and arrived on the 15th. He left the service on February 14, 1946, at the Camp Fannin, TX, Separation Center, at the rank of Captain.
He returned home to Dallas and to Eileen and his first child, Ed Jr., who was born during the war. The couple would have seven more children, Catherine, Kerry, Monica, Theresa, Christopher and twins Virginia and Veronica. Ed worked for the legal staff of Sun Oil Company (later to be named Sunoco) and would become the Assistant Division General Attorney for the Southwest Legal Department. His final position was Vice-President of Legal Affairs at their headquarters in Radnor, Pennsylvania. He retired from the company after 32 years and was known as a brilliant attorney who rarely ever missed a day of work. He was known as a gentle and generous family man.
Ed passed away on September 28, 2002, and was buried in the Calvary Hill Cemetery in Dallas, TX. I want to thank Ed's family, for providing the information and photos used in this tribute.