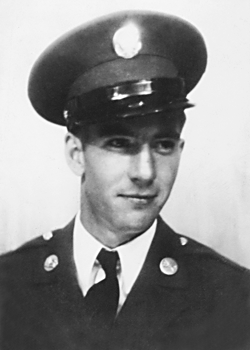 John W. Cahill
Biography: John William Cahill was born on May 23, 1919, in Rahway, New Jersey. He was the son of John Leo Cahill and Elsie M. Fagans and attended Rahway High School through the 9th grade.
At the age of 14, his father signed him out of school and bought him a pack of cigarettes. He then took him to work for the Quinn & Boden Company of Rahway. Quinn & Boden were book printers and John worked as a Cylinder Press Feeder.
Service Time: John entered the service on June 27, 1941, and after his basic training, and probably some time in a field artillery unit, he was eventually assigned to 2nd Platoon of the Reconnasciance Company, 705th Tank Destroyer Battalion. One of the items John brought home was a pin from Fort Knox, Kentucky, which is where the 705th had been activated. We cannot be sure but he may have been one of the unit's original members. John trained with the unit at a number of military facilities within the U.S. including Camp Cooke, California, Camp Hood, Texas, Camp Adair, Oregon, Fort Lewis, Washington, and the Desert Training Center, also in California, before moving to Camp Shanks, New York, for final preparations to ship overseas.
On December 31, 1941, while on leave from the unit, John married the former Claire Anderson Headley. Claire was born in Newark, New Jersey and was the daughter of Fred Clare Headley and Helen Elizabeth Anderson. While the unit was stationed at Camp Adair, OR, the couple would celebrate the birth of a daughter Helen "Betsy" in 1943.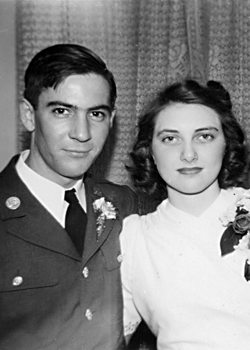 The majority of John's service was as a reconnaissance car crewman in an armored scout car or jeep. A portion of his duties involved manning the scout car's 37mm anti-tank gun or machine gun, reconnoiting enemy positions, reporting their findings by radio to headquarters. He would become a section leader and later serve as a platoon leader during his service. In January of 1942, he qualified as a Marksman with the M1 Rifle and in January of 1944, he qualified as an Expert with both the carbine and 30 cal. machine gun and reached the rank of Staff Sergeant.
The unit shipped out from the New York port on April 18, 1944, aboard the Queen Elizabeth. They arrived in Gourock, Scotland, on the 27th. Three months later, they boarded transports and landed at Utah Beach on July 18th equipped with M18 tank destroyers. They joined the Cobra breakout and swept through Brittany to Brest in late July and early August. The 705th helped clear the Crozon Peninsula into September and then moved across France, in October, to the Moselle River. Advancing to the German border at Kitzing in mid-November, they shifted north to the Aachen area in early December.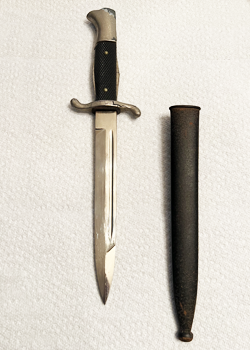 The unit moved to Bastogne, Belgium, where their TD's participated in the famous defense of the town by the 101st Airborne Division. They supported the drive to the Rhine River in March, 1945, and crossed on March 29th at Oppenheim. The unit conducted a drive across Germany through Bayreuth in April, arriving in Neukirchen, Austria, by May 6th.
The knife shown at left was one of the souvenirs John brought home from the war. He had taken the item from a German soldier.
John received credit for campaigns in Normandy, Northern France, Rhineland, the Ardennes and Central Europe. He was awarded the American Defense, the EAME and the Good Conduct Medals. He was also authorized to wear the Distinguished Unit Badge, which the 705th received for their actions in Bastogne. At some point, John was transferred to Company B of the 601st Tank Destroyer Battalion to complete his service. He left the Army on October 12, 1945, at Fort Dix, NJ.
John's discharge lists him as a Private First Class, which was a three step demotion from Staff Sergeant. The story behind the demotion that John shared with his family was that some of his men were being punished by being assigned to dig holes. John felt the punishment was unfair and took up a shovel and began to help his men. This wasn't taken well by the ranking officer.
John returned to Claire and Rahway and also to his job at Quinn & Boden. He was employed there until 1970, when he left the company to work for the United Counties Trust as a messenger. He continued there until health problems forced him to retire. John and Claire would have two additional children, John Jr. born in 1947, and Brian born in 1957. In his spare time John Sr. enjoyed fishing, gardening and attending football games at his old high school. He loved them so much that he would even go to the pre-season scrimmages. He also also loved the Christmas season. His only known membership was in the 705th Tank Destroyer organization.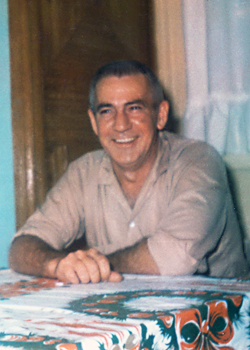 John passed away on October 27, 1987, and was buried in the Rahway Cemetery in Rahway, NJ.
I want to thank the Cahill family and specifically Dave Doheny for providing the photos and information used in this tribute. I also want to thank John Jr., for his military service in Vietnam during 1967 and 1968. Sadly, John Jr. passed away in 2020, from illness attributed to his exposure to Agent Orange.