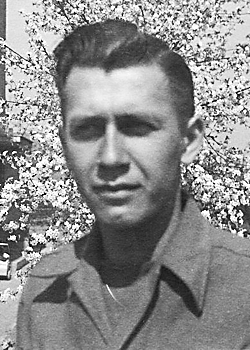 Clyde R. Canfield
Biography: Clyde R. Canfield was born on November 12, 1922, in Savannah, Ohio. He was the son of Clyde M. Canfield and Nancy C. Roy, who was a full-blood Chippewa Indian. Clyde attended Lincoln Elementary in Ashland and then Ashland High School, graduating in 1940.
Prior to the war, Clyde worked at the North Side Green House and then at the A.L. Garber Company as an apprentice printer. His enlistment record also indicates he may have had some experience in a machine shop as well.
On June 5, 1942, Clyde married the former Annabelle R. Koppler who was born in Nankin, OH, and was the daughter of Jacob A. Koppler and Lenabelle Streit. The new couple made their home in Ashland.
Service Time: Clyde entered the service on December 29, 1942, at Cleveland, OH. After his basic training, he was assigned to the 811th Tank Destroyer Battalion. He served in the Headquarters Platoon of the Reconnaissance Company.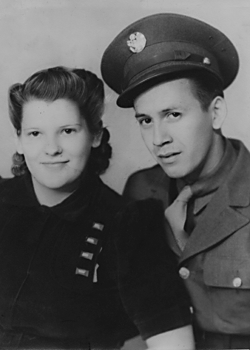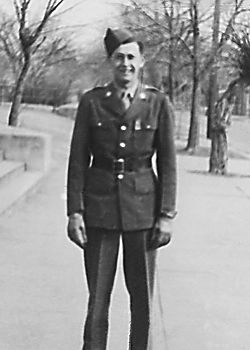 The unit trained at a number of locations including, Camp Hood, Texas, Camp Carson, Colorado, Camp Lagua, Arizona, and Camp Gruber, Oklahoma. From there they moved to Louisiana and the Tennessee Maneuvers involving Camp Claiborne and Camp Livinston. Clyde and Annabelle welcomed a daughter, Beverly, born in 1943.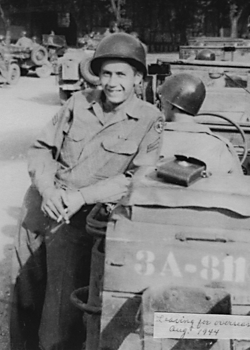 Their last station was Camp Miles Standish in Boston, where there did their final preparations before shipping out on September 5, 1944. They arrived at Cherbourg, France, on September 15th. They were equipped with M18 tank destroyers and moved to Luxembourg in November, participating in the Battle of the Bulge in December.
The battalion was scattered widely with portions attached to many divisions into January, 1945. The unit supported operations against the Siegfried Line in February and early March and advanced to the Rhine in late March, finally crossing the river on the 30th. They supported the 80th Infantry Division in the capture of Kassel, Germany, and advanced to Erfurt and Chemnitz, Germany, in April. They moved south and crossed the Danube River to Regensburg, entering Austria on May 5th.
The 811th received credit for three campaigns, Rhineland, Ardennes-Alsace and Central Europe and Clyde left the service at the rank of Sergeant.
Now back in As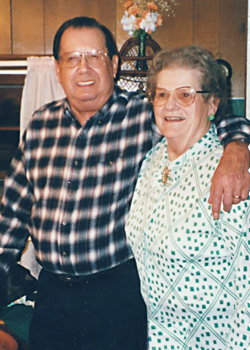 hland, Clyde found work at the Apperson Greenhouse and later, he and Annabelle would become co-owners of Canfield Floral. In his spare time, Clyde enjoyed gardening and was a member of the American Legion #88 in Ashland. In 1957, the couple would welcome a second daughter, Diana.
Clyde passed away on August 31, 2000 and was buried in the Ashland Cemetery in Ashland, OH.
I want to thank Clyde's daughter, Beverly, and son-in-law Gary, for providing the information and photos used in this tribute. Thank you also to Jerry Imperio and Ingrid Holzwarth for their assistance.