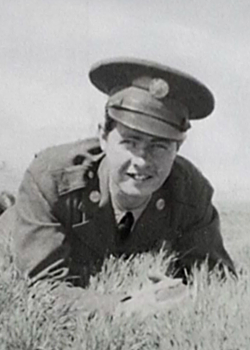 Derwood Crowley
Biography: Derwood Crowley was born in Lunenburg, Vermont, on Jan. 10, 1920. His parents were William James Crowley and Ethel M. Downer. He attended schools in both Dalton and Littleton, New Hampshire and also Gilman, VT. He worked at Romeo's Garage in Gilman prior to entering the service. Derwood married Loretta Falardeau and they were together for 63 years.
Service Time: Derwood entered the service on Jan. 15, 1942, at Ft. Devens, Massachusetts. At the time, he was living in Essex County, MA. He did his basic training at Fort Briggs, North Carolina, and was eventually assigned to the 632nd Tank Destroyer Battalion. He was later stationed with the unit in the Philippines, New Guinea, and Australia and saw action in the South Pacific. He reached the rank of Private First Class.
After the war, Derwood worked for the Dictaphone Corp. in New York City for 38 years. His hobbies included target shooting and golf. He fine tuned his golfing skills at the Lords Valley Country Club where he was a member for 17 years. Two of Derwood's prouder moments were when he won the Governors Cup, in 1984, and hit a hole in one at the Sebastian Golf Course in Vero Beach, Florida. Derwood and his wife made their residence in Vero Beach, FL.
Derwood passed away on Sept. 9, 2004, and was buried at the Hillcrest Memorial Gardens in Fort Pierce, FL.
Research: I was contacted by Derwood's nephew, Daniel, through this website. He had a poem he believed Derwood had written in tribute to the Tank Destroyers. It was written on Red Cross stationary so there's a good chance it is original. I haven't found the poem anywhere else, so until someone can prove otherwise, I'm giving credit to him. You can download it at the link shown below. Thank you, Dan, for your assistance!
A Tribute to Tank Destroyers by Derwood Crowley – Original
A Tribute to Tank Destroyers by Derwood Crowley – Retyped