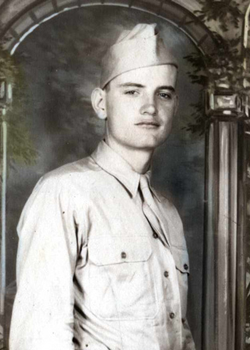 James H. Coleman

Biography: James Harvey "Bob" Coleman was born on August 28th, 1924, to Arlando and Ruth Sanders Coleman of Marked Tree, Arkansas. The family moved to Mississippi and Bob attended school in Ackerman.
Service Time: Bob enlisted on Aug. 17, 1943, and entered the service on Sep. 9th at Camp Shelby, Mississippi, transferring to Camp Hood, Texas, for basic training. He then traveled to Fort Meade, Maryland, before shipping out to the ETO, where he was assigned to First Platoon of Company A, 899th Tank Destroyer Battalion. Bob functioned as a gunner and later a TD Commander and is listed in the unit's Our Battalion history. He participated in all of the unit's campaigns, Normandy, Northern France, Rhineland, Ardennes-Alsace, and Central Europe. It was during the Ardennes-Alsace Campaign, and the Battle of the Bulge fighting, that Bob was injured and received a Purple Heart. He reached the rank of Technician 4th Grade and finished out his service time with Company C of the 636th Tank Destroyer Battalion on Dec. 10, 1945.
After the war, Bob started his own business, St. Mary Products, Inc., which was a successful candy distributing business for 20 years in Morgan City, Louisiana. He met and married the former Natahlie Williams, also of Morgan City, who was the daughter of Robert Fredrick Williams and Edna Mae Jackson. They were married on July 26, 1954, and made their residence in Morgan City. The couple had two sons, James Robert and James Russell "Rusty". When he wasn't working, Bob enjoyed woodworking and was an Elder in the Presbyterian Church. He was also a Freemason, reaching the level of 32nd Degree Mason in the Scottish Rite. Bob passed away on Nov. 16, 1985, and was buried in Ackerman, MS.
I want to personally thank his son, Rusty, for providing this information as well as a number of photos of his father and other 899th personnel as well as equipment of the 899th.