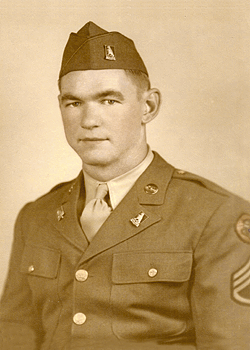 Robert E. Cheatham
Biography: Robert Eugene Cheatham was born on April 13, 1918. He was the youngest son of Claude Cecil and Cora Winston Cheatham of Youngsville, North Carolina. He graduated from Youngsville High School and attended Wake Forest College and Hardbargers Business School in Raleigh, NC.
Robert married the former Elizabeth Fountain Parrish of Franklinton, NC, and together they had one daughter, Elizabeth, born in 1944. Elizabeth's birth came one month after Robert had shipped overseas.

Service Time: Robert's military experience started in February of 1936 when he joined the National Guard. He served with the 5th Battalion, 113th Field Artillery based in Youngsville, NC. He officially joined the Army on September 16, 1940, and was assigned to the 630th Tank Destroyer Battalion when it was activated on December 15, 1941 at Ft. Jackson, South Carolina. Robert served with the unit throughout its time in Europe, receiving credit for all five of their campaigns, Rhineland, Central Europe, Ardennes-Alsace, Normandy and Northern France. He also received the EAME medal, American Defense medal and the Good Conduct medal.
A Time for Remembrance – Article from The Wake Weekly of Wake Forest, NC, Nov. 11, 1993. Written by staff writer Beth Tatum about Robert's experiences in WWII.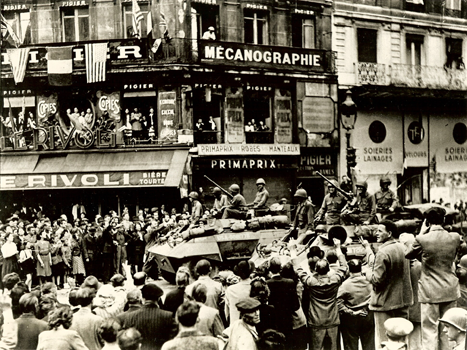 The photo above shows Robert in his M20 Armored Utility or Scout vehicle, entering Paris on August 29, 1944. He is shown approximately centered in the photo, looking toward the camera and directly under the second "R" in the PRIMAPRIX name.

When he returned to the U.S., he rejoined the National Guard in 1947 and was employed full-time by them in 1951. He retired in September of 1975 at the rank of Chief Warrant Officer, after 36 years of service. Robert and other community leaders were instrumental in securing local, state and federal funding for a new National Guard Armory in Youngsville. The facility was completed in 1974 and in recognition of Robert's service, the Armory was named after him in 1998.
When Robert wasn't serving his country and state within the military, he was serving both the Youngsville and Franklin County communities. He was a member of the Lions Club and served as a volunteer fireman for 25 years. He was a member of the Youngsville Board of Commissioners, the Franklin Water and Sewer Authority and the Franklin County Hospital Board. He was also an active in the Youngsville Baptist church. No less dear to him was his time spent helping with the Boy Scouts, the Special Olympics and Meals On Wheels. This man who gave so much, passed away on March 6, 2005.
I want to thank his daughter, Beth, for providing this information and the photo of her father as well as a number of photos of the 630th TD Bn.