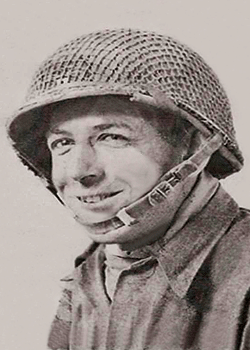 Joe Crispy
Biography: Joe Crispy was born on September 11, 1919, in Alderson, Oklahoma, which is in Pittsburgh County. He was the oldest of ten children and left school in eighth grade to take care of his siblings after both his parents died.
Service Time: Joe entered the service on May 27, 1942, at Tulsa, OK. He was assigned to Company C of the 821st Tank Destroyer Battalion. The unit landed at Utah beach late in June, 1944, and supported actions at St. Lo and in the Brittany campaign. They conducted operations against the Siegfried Line and supported the drive to the Roer River. Joe told his grandson that his Tank Destroyer was the first to cross the river and engage the enemy.
Joe stayed in the army, serving in Korea with the 1st Cavalry Division, 16th Reconnaissance Company. Three days after his unit entered combat, he was wounded on September 1, 1950. Joe was shipped back to the U.S. where he recovered from his wounds and later served as an instructor at West Point Military Academy until 1960. He then served at Fort Knox, Kentucky, as an Armor School Instructor until retiring in 1963. He received a Bronze Star for his actions during the crossing of the Roer River. At the time of his retirement, he had reached the rank of Sergeant.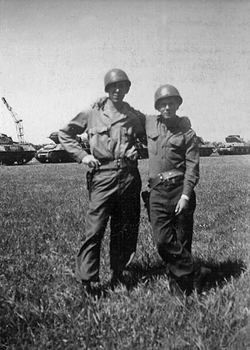 The photo at left shows Joe, on the left, with an unknown friend. It was taken after completion of the Brittany Campaign, when they went to Holland. You can see the line of M10s in the background, so it was probably taken in December of 1944 or thereafter after they had been changed over to the self-propelled units.
Joe was a member of the VFW and passed away on January 20, 1999. He was buried Louisville,Ky.
I want to thank Joe's grandson, Kenneth, for providing the photo and information about his grandfather.