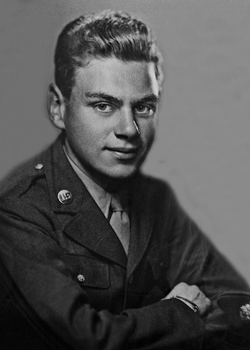 Roy G. Colson
Biography: Roy Gerald Colson was born in Brooklyn, NY on May 10, 1926. He attended grammar school and then Erasmus High School in Brooklyn, graduating in January of 1944.
Service Time: In March of 1944, Roy enlisted in ASTPR (Army Specialized Training Program Reserve) because he was still underage. The ASTP was an Army training program which sent active duty men to college to study mainly medicine and engineering. Because of his age, Roy was to spend one semester in the reserves before being put on active duty in the ASTP. He was sent to Cornell University, located in NY, but as his first semester ended, D-Day came and the progam was cancelled. Roy was put on active duty and sent to Camp Hood, Texas, for basic TD training. After completing basic, he was sent to Fort George Meade in Maryland, which was a staging area for troops shipping to the E.T.O. On January 31, 1945, Roy sailed from New York on the USS Wakefield and arrived in Liverpool on February 8th. He traveled to Southampton by train and then crossed the channel to Le Harve, France.
From there it was on to Charleroi, Belgium in a 40 & 8 boxcar. They were known by this designation because the number 40 over an 8 was stenciled on the boxcar, identifying that it could carry 40 men or 8 horses. They stayed at Charleroi for several days before going on to Metz, France. On March 11, he arrived at Trier, Germany, and joined First Platoon, Reconnaissance Company of the 609th Tank Destroyer Battalion. Roy was given a jeep with a driver, a radio, maps and a 30 cal. machine gun.
From Trier they made their way to Worms on the Rhine. The 609th was attached to the 10th Armored Division but at this point the whole division was moved from 3rd Army to 7th Army. The 609th crossed the Rhine and headed south to Mannheim, Heidelberg, and about April 8th they reached Crailsheim, Germany, where he recalls there was heavy fighting. On April 12th, they found themselves at Ohringen, Germany, which was a difficult time for the unit. They had many casualties there, including SSgt. Orville Estes, who was killed by an SS Trooper hiding in a building with a burp gun. Estes was Roy's Platoon Sergeant and very good friend. T/5 Cecil Duncan was also wounded there along with a number of other soldiers from the unit. The date of the 12th differs from what's recorded in the Unit History written by Company Commander, Albert Arenholz. His record states that it was the 20th but a Death Record from an alternate source confirms that it was indeed on the 12th.
The unit continued heading south, and on the morning of April 21, Roy got very sick with a fever of 104 degrees. He was sent by ambulance to an air-evac hospital where he stayed for several days. He was then flown to the 9th General Hospital in Rheims, France. While still in the hospital, VE Day (May 6, 1945) came and passed and Roy was finally discharged from the hospital. He spent several days in Paris with a guy from the 3rd Infantry who he had met in the hospital. They had a unforgettable time there now that the weight of the war was lifted. Roy then traveled to Worms by train and then to Kochel, in Bavaria, where he rejoined his outfit.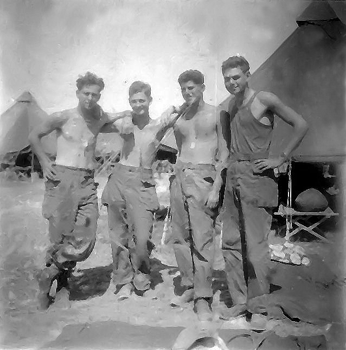 After a short stay in Kochel, they were re-equipped with supplies and equipment and went to Camp Atlanta in France, arriving in late July or early August. There were five men that shipped over with Roy to join the 609th but only the four shown returned. L to R are Stan Butler, Perry Blumstein, a name he can't remember and Roy. Joe Hurkowitz was the friend that was Killed In Action.

The 609th was scheduled to be redeployed to the Pacific, so they went to Camp Lucky Strike in Le Harve and shipped out on August 30, for New York, aboard a Victory ship. They arrived a week later on September 7. The war in the Pacific ended which also ended their plan of redeployment. They were sent to Camp Breckenridge, Kentucky, where the 609th was eventually disbanded. Those without enough points for discharge ended up in the 656th Tank Destroyer Battalion at Camp Campbell, KY. Roy was finally discharged on April 25, 1946, at Fort Dix, New Jersey, at the rank of Technician 5th Grade.

Roy received credit for both the Central Europe and Rhineland campaigns and also received the American Campaign Medal, EAME Medal, World War II Victory Medal and the Good Conduct Medal. Although offered the Purple Heart for some minor wounds he received, Roy refused it believing that taking it for these superficial wounds would only cause him to really earn it later. He felt serving our country during that terrible time was one of the most important things he ever did. Roy related to me that he did his job to the best of his abilities and never shirked his responsibilities. Although he doesn't feel like a hero, in my book he and all these men are heroes.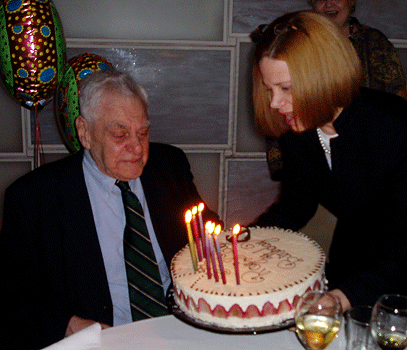 When Roy returned to civilian life, he attended Syracuse University, in New York, and graduated in 1949. In 1954, he married Pat and together they had one child, Nancy. You can see Roy and his daughter in the photo to the left. The occasion was his 80th birthday.
Roy worked at several different jobs before starting his own business in 1960, in which he is still active.
I want to thank Roy for providing this information and the photos. I also want to thank him for his service to this country and wish him long life and good health.