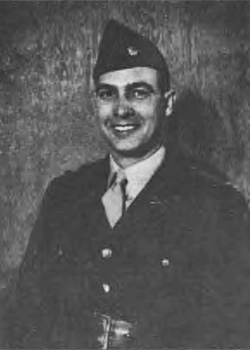 Edward A. Costomiris
Biography: Edward Andrew "Bud" Costomiris was born on February 7, 1917, in New Haven, Conneticut and attended Northern High School in Detroit, Michigan. In 1941, he married the former Lois Jean Kaiser in Hattesburg, Mississippi. The couple had one child, Wanda, prior to the war.
Service Time: Edward enlisted with the Indiana National Guard and served with them from September 3, 1936 until January 17, 1941 as a member of the Headquarters Battery, 1st Battalion, 139th Field Artillery, 38th Division Artillery, 38th Infantry Division. In January he then entered the U.S. Army at the rank of 2nd Lieutenant. He was assigned to the 638th Tank Destroyer Battalion and served as a Company Commander from August 15, 1941 until July 25, 1942. It was during that time that his conscientious attitude and hard work earned him a promotion to Captain on April 16, 1942. Fifteen months later, he was promoted to Major and transferred to the 823rd tank Destroyer Battalion. On November 24, 1943, he assumed temporary command of the 823rd until Lt. Col. Stanley Dettmer transferred in on Feb. 11, 1944, and Edward took his position as Executive Officer. He held this position throughout the war.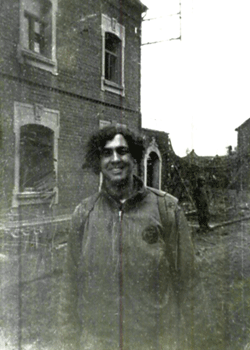 The photo to the left shows Edward standing on a street in Hongen, Germany, north of Aachen, with something less than a regulation haircut. Edward was awarded the Bronze Star for his actions in WWII.

Edward returned to Indiana and continued his service with the National Guard, retiring as Commander of the 38th Division Artillery at the rank of Colonel on June 16, 1971.
Edward and his wife had five more children, Dennis, Rebecca, John, Tonja and William. He worked as the Postmaster of Cicero, Indiana, for 20 years and was active within the community serving as a School Board Member. He was also active in the Noblesville First Friends Meeting as a Sunday School Teacher and Committee Member. In his spare time, Edward enjoyed hunting, basketball and baseball.
Edward passed away on Feb. 11, 2003, at the age of 86. He was buried in the Cicero Cemetery in Cicero, Indiana.