Manuel J. Carballeira
Biography: Manuel J. Carballeira was born in New York City, New York, on July 14, 1915. He attended St. Andrews school and Xavier High School before going on to Columbia School of Physicians and Surgeons. Prior to entering the service he worked for the NY Police Department and Sanitation workers as a doctor and also had a private practice in the city.
Service Time: Manuel entered the service and was sent to a medical detachment, assigned to the 601st Tank Destroyer Battalion, as their the field surgeon. The 601st served throughout Europe, Italy and Northern Africa, receiving credit for 9 campaigns and receiving 2 Distinguished Unit Citations.
On March 3, 1944, Manuel's courage and commitment to others in need was tested. At 5:00 am, while the unit was somewhere in Italy, an enemy artillery shell exploded, setting off a charge of TNT. Two men were killed and 12 others were wounded. Other medical personnel were not willing to go and help the men because the red cross, displayed on their vehicle, could not be seen in the early morning light. When Manuel heard of the situation, he immediately got into his ambulance and went to the men and took care of them. Manuel left the service at the rank of Major.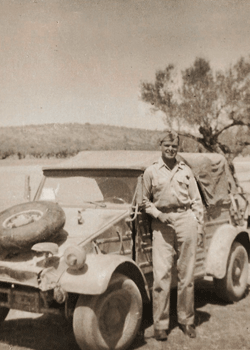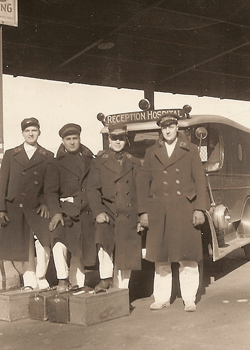 The photo to the left shows Manuel with a VW Kübelwagen they had taken from German forces in Africa. The right photo was marked as dating from 1941 or 1942. Manuel is shown second from right and may not have been assigned to the 601st at this time. You can see, in front of each of the men, what I suppose to be their medical kits, although they look more like tool boxes.

When Manuel returned to the U.S., he continued to practice medicine. He was on the staff at St. Clare's, Doctor's and French Hospitals as well as his continuing his private practice. He was also the house doctor for the Metropolitan Opera for 15 years. After his retirement, Manuel served the Spanish community by providing medical services to many Spanish diplomats, artists and performers. Patients of particular note were Salvador Dali, Alicia Delarocha, Andres Segovia, the attaché to the U.N. Spanish Consulate General and King Juan Carlos, who decorated him for his service. Manuel and his wife had two sons and two daughters.

Manuel passed away on June 10, 2004, and was buried in the Mount St. Mary's Cemetery in Flushing, Queens County, New York. I want to thank Manuel's son, Andrew, for providing the materials used in this tribute.