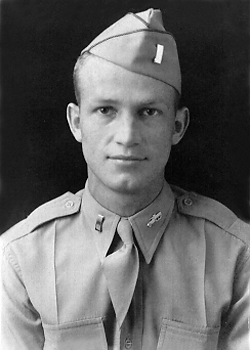 Lewis K. Corder
Biography: Lewis Kevan Corder was born on July 28, 1918, in Hettick, Macoupin County, Illinois. He was the son of Matthew E. Corder and Kizzie Mary Rupe and attended Alton High School through the 11th grade. After leaving school, he worked as a truck driver, an inspector at a glass plant and in a pharmacy. He married the former Louise T. Yuhas on February 7, 1942. She was the daughter of Andrew Yuhas and Mary Rozak and was born in Streator, IL. The couple lived in Alton, IL and had one son, John, born in 1942.

Service Time: Lewis enlisted in the National Guard on October 17, 1937, at the age of 19. He was separated from the Guard on June 28, 1938, to permit his induction into the Army on March 26, 1942. He was sent to Fort Riley, Kansas, and was there from March through June. His parents and sisters visited him there in May. He was then assigned to the 692nd Tank Destroyer Battalion and stationed at Camp Gordon, Georgia, from June till December, when he was transferred to Camp Hood, Texas. He quickly rose to the rank of Sergeant and was selected to attend O.C.S. (Officers Candidate School). On March 11, 1943, he was commissioned as a 2nd Lieutenant.
Lewis was temporarily assigned to the Tank Destroyer Replacement Center before receiving his permanant transfer to the Reconnaissance Company of the 640th Tank Destroyer Battalion. He also served some period of time with B Company. The 640th participated in campaigns of Bismarck Archipelago and the Eastern Mandates before entering the conflict at Luzon, which is the largest island in the Philippines. On February 2, 1945, elements of Recon Company were attached to the 12th Cavalry Regiment and 1st Lt. Corder was tasked with leading the 3rd Platoon. His mission was to reconnoiter the area east of Bangad. This location was near the Cabanatuan Prison Camp, where more than 500 prisoners had been liberated only days before. Third Platoon encountered approximately 200 of the enemy and Lewis was wounded in the hand and arm during the firefight. On February 4th, he was moved to a rear area, for additional medical treatment.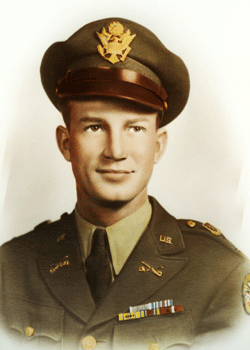 Lewis returned to his unit but was again hospitalized in Leyte, on June 6, after contracting Malaria. On July 20, he landed back in San Fransisco, California, on his way to Letterman Hospital. He was then transferred to Schick General Hospital in Clinton, Iowa, and then Gardner General Hospital in Chicago, IL, for continued treatment of the disease. His road to recovery would then take him to Welch Convalescent Hospital, in Daytona Beach, Florida, where he would meet his second wife, Virginia Donnell Sherman. Lewis left the service on September 21, 1945, at the rank of 1st Lieutenant. He received credit for the campaigns of Bismarck Archipelago, Eastern Mandates, Luzon and the Southern Philippines. He received the Purple Heart for his wounds and was awarded the American Theater Service Medal, Philippine Liberation Ribbon with two stars, WWII Victory Medal and the Good Conduct Medal.
After leaving the service, Lewis worked as a truck driver and lived in Alton, IL. On July 13, 1946, he married Virginia, who was the daughter of Leslie Donnell and Hannah Read. She was born in Daytona Beach, FL. The couple had one child, Bonnie, born in 1947. Lewis also adopted one child, L. Kevan Corder Jr., born in 1945.
On February, 1950, Lewis reenlisted for the Korean conflict and served in Company G, 7th Cavalry Regiment, 1st Cavalry Division. While serving, he earned the Combat Infantry Badge. He was fatally wounded on August 13, 1950, and died of his wounds on August 15 at the 8055th Evac. Hospital, NR., Waegwan, Korea. Lewis was buried in Korea but was brought home and re-buried in Alton, IL, on June 19, 1951. He posthumoustly received the Purple Heart, Korean Service Medal, United Nations Service Medal and the Korean War Service Medal, which was issued by the Korean government.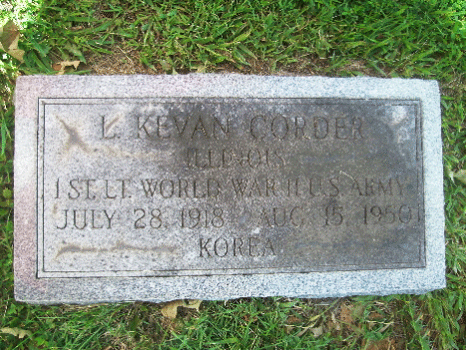 I want to thank Lewis' son-in-law, Dan Woolary, for providing the information and materials for this tribute.