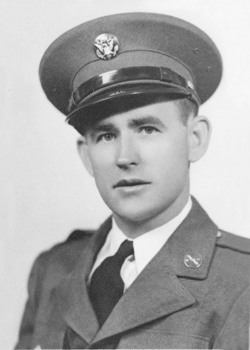 Edward G. Chapman
Biography: Edward Godfrey Chapman, "Eddie", was born on July 1, 1912, in Hennepin, Minnesota. He was one of six boys born to Erick Chapman and Ella Sletta. As a teenager, Eddie moved Willows, California, staying with family friends that farmed in the area. He graduated from Willows High School and while in school, he participated in basketball.
After graduation, he worked as a service station attendant.
Service Time: Eddie enlisted in the Army on March 22, 1941, at Sacramento, CA. After his basic training, he was assigned to Battery H of the 30th Field Artillery, which was activated on June 4, 1941, at Camp Roberts, CA. He trained with the unit until November 7, 1941, when he was transferred to the ERC (Enlisted Reserve Corps).
On January 11, 1942, he married the former Marilynn Jeannette Martin, who was from San Francisco, California and was the daughter of Emerson E. Martin and Bessie D. Croft. The couple would make their home in Willows, CA.
Eddie was recalled to active duty on January 29, 1942, and at some point thereafter was assigned to the 6th Tank Destroyer Group. His name is listed as a Private First Class on their roster from October 1942.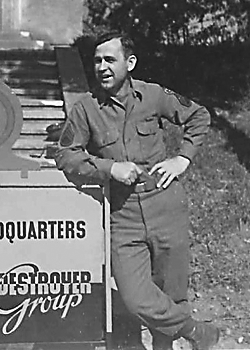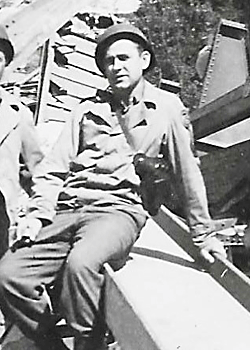 The 6th had been activated at Camp Hood, Texas, on September 1st, so he could have easily been one of the original members of the unit. The unit moved to Camp Young, CA on January 8, 1943, and participated in Maneuvers at the DTC (Desert Training Center) which covered 18,000 square miles of the Mojave Desert in California, Arizona and Nevada. They then moved to Camp Maxey, TX on July 31st, as part of the Third Army. Eddie must have distinguished himself as a leader over the past year since payroll records from Camp Maxey now list him as a Staff Sergeant.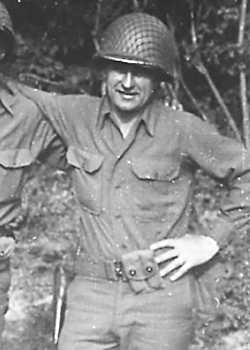 The unit was prepared for overseas shipment at Camp Kilmer, New Jersey, beginning on January 16, 1944, and shipped from the New York Port of Embarkation on the 29th, aboard the RMS Aquitania. They arrived in England on February 5th, and after assisting to prepare troops for the initial D-Day landings, they finally shipped to France, landing on July 25th. They initially acted as part of Task Force "A" of the VIII Corps of the Third Army, and took part in actions across the Brittany region of France on their way to the town of Brest.
Beginning on September 5th, the unit supported XIII Corps of the Ninth Army, as their Anti-Tank section. They moved into Belgium on October 24th, and then into Holland on November 6th. The 6th then moved into Germany on March 16, 1945, and took part in fast moving operations from the Rhine to the Elbe. Eddie's main assignment while overseas was as Message Center Chief.
On a July 7, 1945, Morning Reports indicate that Eddie and other members of the unit were stationed in Bad Aibling, Germany. There was a large PWE (Prisoner of War Enclosure) located there that the 6th was involved in guarding.
Eddie received credit for the campaigns of Normandy, Northern France, Rhineland and Central Europe. He also received the EAME, American Service and Good Conduct Medals. He left the service on October 23, 1945, at the rank of Staff Sergeant.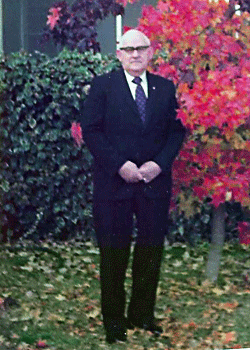 After the war, Eddie returned home to Willows and he and Marilynn would have a son Kent, born in 1947, and a daughter Judith (Judy) in 1953. He initially returned to his gas station attendant job but he would later become the owner of a refreshment food service business. He sponsored a local softball league and volunteered as timekeeper for the local high school football games. He and was also a lifelong member of the Elks Club. Around May of 1981, Eddie sold his business and he and Marilynn moved to Grass Valley, CA, to retire and be close to friends.
Eddie passed away on May 23, 1994, and was buried in the Willows Cemetery, Willows, CA. Thank you to Eddie's daughter, Judy, for providing information and photos for this tribute as well as photos of others from the unit. Thank you also to Find A Grave contributor Hayden Trent for the use of the grave marker photo.