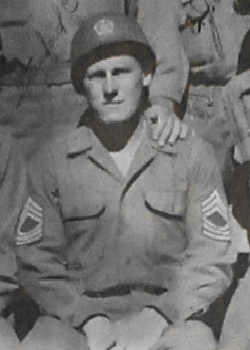 George R. Cassettari
Biography: George R. Cassettari was born on February 4, 1918, in Chicago, Illinois. He was the son of Ralph Cassettari and Armida Castelvecchi and graduated from Lane Tech. He worked for Pheoll Manufacturing Company, in Chicago, as a machinist. Some of his duties included operating a milling machine and a turret lathe.
Service Time: George entered the service on November 4, 1941, in Chicago and was sent to Camp Forrest, Tennesse. He was assigned to Battery H, 3rd Battalion, 123rd Field Artillery Regiment of the 33rd Anti-Tank Division. In a letter dated December 10th, 1941, the 633rd Tank Destroyer Battalion was formed from the 122nd, 123rd and 124th Field Artillery units of the 33rd Division. On January 10, 1942, George was promoted from Private to Technician 4th Grade.
The 633rd was transferred to Camp Hood, Texas, where they served as a school troop unit for the Tank Destroyer School. On September 3, 1942, George was promoted to Master Sergeant and as of September 25th, was serving with the 5th Tank Destroyer Group. He is listed as being in charge of the Headquarters Company. On June 26, 1943, George, along with a few other Master Sergeants, was transferred to the 29th Cavalry Regiment, Composite School, located at Fort Riley, Kansas. Prior to the transfer, they were all assigned to the BUTC (Basic Unit Training Center), located at North Camp Hood.

History of the 38th Cavalry Recon. Squadron
On January 17, 1944, George left for Europe and arrived on the 26th. He was assigned to the 38th Cavalry Reconnaissance Squadron (Mechanized) which was attached to the 102nd Cavalry Group. The unit had been overseas since November of 1943, but George joined them prior to the Normandy invasion. The unit landed on the Normandy shores (Omaha Beach), on June 12. On July 27, 1944, while in France, George was wounded, which earned him a Purple Heart.
While in the U.S., George had been sent to Electrical and Radio Operator School for 36 months and would use those skills while serving as Communications Chief throughout most of his time in the service. He supervised the communications section on the unit, in the installation, operation and maintenance of wire, radio, message section and air-ground contact.
He received credit for participation in the campaigns of Normandy, Northern France, Rhineland, Ardennes-Alsace and Central Europe and was awarded the American Defense Service Medal, American Theater Medal, EAME Medal and the Distinguished Unit Badge. George left the service from Camp Grant, Illinois, on October 27, 1945. He held the rank of Master Sergeant.
After the war, George moved to the Glendale, Arizona, area and was living there as of 1993. George passed away on September 3, 1999, at the age of 81.