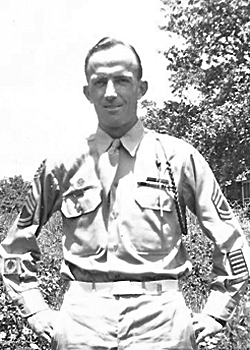 Odas W. Chance
Biography: Odas Walter Chance was born on November 27, 1917, in Drumright, Oklahoma. He was the seventh of nine children born to Howard and Margaret Bennett Chance. After the death of Walter's parents in 1925, at the age of seven, he along with two sisters, were placed in the Sand Springs Home for Children in nearby Sand Springs, Oklahoma. He lived there until he graduated from Sand Springs High School in 1936.
After graduation, Walter remained in Sand Springs and worked as a payroll clerk in the offices of the Sand Springs Home. For enjoyment, he bowled and eventually became exceptional at it. At one point, he considered becoming a professional bowler.
Service Time: Walter enlisted in the Army on March 7, 1941, at the age of 23. He was assigned to the Reconnaissance Company of the 601st Tank Destroyer Battalion. Walter was quickly put into leadership roles and promoted to Corporal, after eleven months, while still in training at Ft. Devens, Massachusetts.

On November 8, 1942, the invasion of North Africa (Operation Torch) began with Walter and Recon. Company landing at Arzew, Algeria, near the French Garrison at Oran. The remainder of the 601st joined Recon. Co. around December 1st. They would fight at Kasserine Pass, Tunisia, and then at El Guettar, Tunisia, which earned the unit their first Distinguished Unit Citation.
On Sept 9, 1943, Walter participated in the invasion of Italy (Operation Avalanche) at Salerno. Walter was in his third D-Day landing at Anzio (Operation Shingle) on January 22, 1944. After the 601st broke out of Anzio, Walter was wounded during actions at Artena. He received a Purple Heart but was able to continue with the unit. During these actions Walter was promoted to Sergeant and then to Staff Sergeant of a Platoon of Recon. Co.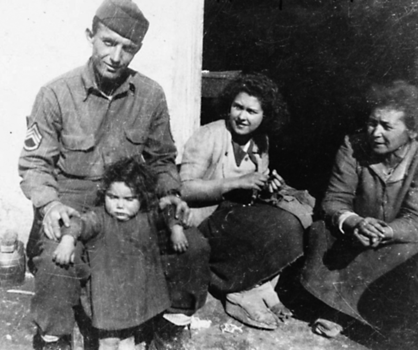 The photo on left shows Walter and an Italian family.
On August 15, 1944, Walter was in his fourth assault landing for the invasion of Southern France (Operation Dragoon), landing at Cavalaire. The unit fought in the Colmar Pocket, earning them their second Distinguished Unit Citation. They ended their travels at Hitler's retreat in Berchtesgaden, Germany, nicknamed "Eagle's Nest".
Toward the end of the war, Walter was assigned to Headquarters Company and their supply group and promoted to Technical Sergeant. He was discharged on June 28, 1945, at Ft. Dix, New Jersey, and was credited with all nine of the 601st campaigns, including Algeria, Tunisia, Sicily, Naples/Foggia, Rome Arno, Southern France, Rhineland, Ardennes-Alsace and Central Europe.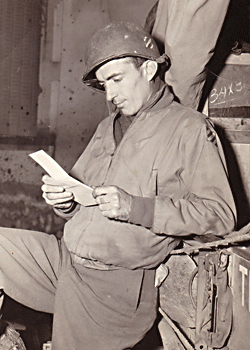 Walter returned to his home town of Sand Springs and went to work for the Hoerner Box Company. On February 2, 1946, he married Doris Rainbolt, who was also from Sand Springs. The couple had two children, a son and daughter. That same year, Walter opened the Bowl-Mor bowling alley for evening bowling. It didn't take long for the bowling alley business to grow large enough to require Walter to quit his day job and work full time at the alley. The bowling business continued successfully until 1962, when the property was purchased for a new freeway. Walter then became manager of the Bowl-Ero bowling alley, in Tulsa.

Walter's first marriage ended and on May 29, 1964, he married the former Regina (Clouatre) Cates, of Tulsa. Regina had eight children from a previous marriage and Walter was quickly accepted as their own father by all the children. Walter was now employed by Hahn Auto Parts, of Tulsa, and retired in 1984 after 16 years with the company. In 1985, he started his own auto-parts distributorship to supplement the tax preparation service he had owned for many years.
Walter died on June 18, 1988, and was buried with military honors at the Floral Haven Cemetery, Tulsa, Oklahoma. He and Regina enjoyed 24 years of marriage. Walter was an active member of the American Legion, Disabled American Veterans, and Veterans of Foreign Wars. I want to thank Walter's son, Larry, for providing the materials for this tribute.