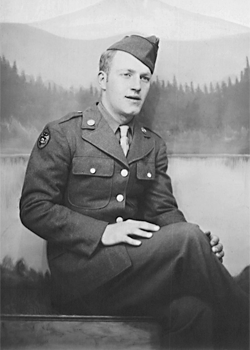 Clarence E. Curtis
Biography: Clarence Ellis Curtis was born on December 5, 1921, in Lexington, Kentucky. He was the son of Samuel Grant Curtis and Nora Craycraft and attended local schools, through the 8th grade, before starting work as a core-maker. He married the former Ella Frances West, who was born in Covington, KY. She was the daughter of Everett and Mary West.

Service Time: Curtis entered the service on December 22, 1942, at Cincinnati, Ohio. He was sent to Cooks and Bakers School at Camp Gruber, Oklahoma, for training. He was eventually assigned to Company B of the 811th Tank Destroyer Battalion. During his weapons training, he qualified as a marksman with the rifle and carbine. He qualified as an expert with the sub-machine gun.
Clarence shipped out with the unit, arriving at Cherbourg, France, on September 15, 1944. They were equipped with M18's and quickly moved into Luxembourg, participating in the Battle of the Bulge in December. The battalion was divided and attached to a number of different Divisions during January, before supporting operations against the Siegfried Line through early March. Later that month, they moved to the Rhine and crossed before supporting the 80th Infantry Division in capturing Kassel. By the end of the war, the 811th had moved into Austria and were credited with participation in three campaigns; Rhineland, Ardennes-Alsace and Central Europe.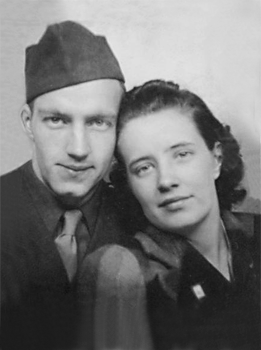 Clarence left the service on October 18, 1945, at the rank of Technician 4th Grade. He received the EAME Theater Medal and the Good Conduct Medal.
He returned home to his growing family in Newport, KY, and did foundry work. Clarence and his wife had three boys, Alvy born in 1942, Clarence (Buck) in 1943 and Larry in 1944.

Clarence passed away on May 26, 1977, and was buried in the Lenoxburg Cemetery in Braken County, KY. I want to thank Clarence's granddaughter, Melissa, for providing the information and photos for this tribute.