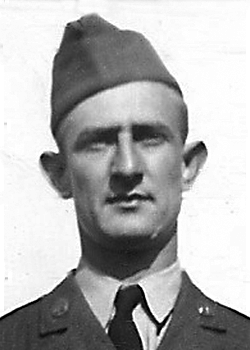 Francis B. Collignon
Biography: Francis Benedict Collignon was born on September 19, 1918, in Woonsocket, Sanborn County, South Dakota. He was the son of Robert Louis Collignon and Mary Ann Fee. He attended local schools and later worked in a hardware store. On May 9, 1942, he married the former Mildred Irene Ohlson who was born in Yellow Medicine, Minnesota, and was the daughter of William Hermen Ohlsen and Annetta Amelia Odland, The couple made their residence in Long Beach, California.
Service Time: Francis entered the service and was assigned to the Reconnaissance Company of the 654th Tank Destroyer Battalion, serving as a radio operator. The 645th shipped out from Newport News, Virginia, on May 11, 1943, and arrived in Algeria, Africa on the 27th. During this period, they planned and prepared for the invasion of Italy, which included travelling 800 miles overland to reach Bizerte, Tunisia.
On September 9, they landed at Paestum, Italy, and participated in the drive up the Italian peninsula. They then shifted to the Anzio beachhead in February, 1944, with the 45th Infantry, but by June, they had withdrawn for training to participate in Operation Dragoon. Setting off again, they landed in southern France on August 15th and advanced to the Vosges Mountains near Grandvillers by October. The unit joined the assault on the Siegfried Line in December, near Bobenthal, Germany. They fought in the German Nordwind offensive in January, 1945, and converted to M36 tank destroyers beginning late January. They attacked the Siegfried Line again, south of Sarreguemines, in March, and crossed the Rhine at Worms on March 25 before helping reduce the Nazi stand at Aschaffenburg at month's end. They captured Nürnberg in mid-April and reached Munich on April 29.
The unit received credit for the campaigns of Naples – Foggia, Rome Arno, Southern France, Rhineland, Ardennes-Alsace and Central Europe. Francis left the service at the rank of Technician 4th Grade.
Francis returned to U.S. and owned and operated a hardware store. He and Mildred had four children, Robert, Carole, William and Barbara. Francis passed away on September 29, 1989, and was buried at Fort Snelling National Cemetery in Minneapolis, Minnesota.
I want to thank Francis' granddaughter, Tami, for providing the information and photo of her grandfather for this tribute.