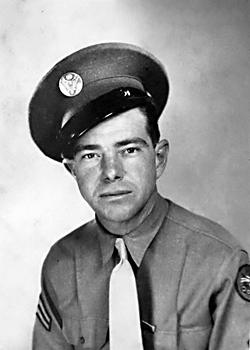 Melvin W. Clendennen
Biography: Melvin Wesley Clendennen, known as "Bill" to his family and friends, was born on July 29, 1914, in Jack County, Texas. He was the son of M.C. Clendennen and Kitty Schuck and attended school in Graford, Texas. After leaving school, Bill found work as a heavy equipment operator, specifically running the drag-line machinery.
Service Time: Bill entered the service on February 6, 1942 at Camp Wolters, TX. He was eventually assigned to the 705th Tank Destroyer Battalion, serving in the 3rd platoon of Company C. The unit shipped out from the New York port on April 18, 1944, and arrived in England on the 28th. After a few months of preparations, they boarded ships for the English Channel crossing, landing at Utah Beach on July 18th. They were equipped with M18's and joined the Cobra breakout, sweeping through Brittany to Brest, France, in late July and early August.
They helped clear the Crozon Peninsula in September and moved across France in October to the Moselle River. One of Bill's prize possessions was a rosary, given to him by a small girl while they were driving through a small town in France. The girl had a big small on her face, and it was obviously given in thankfulness for what they were doing for her community. The rosary remains as one of the families treasures.
The 705th advanced to the German border at Kitzing in mid-November and shifted north to the vicinity of Aachen, in early December. They moved to Bastogne, where their TD's participated in the famous defense by the 101st Airborne Division. It was during the fighting at Bastogne that Sgt. Melvin W. Clendennen was awarded the Bronze Star for his actions during the conflict when his TD destroyed four Mark IV tanks, a Mark IV 'Tiger' tank and several other enemy vehicles.
They then supported the drive to the Rhine River in March, 1945, and crossed on March 29th at Oppenheim. Their last movements took them across Germany through Bayreuth in April, arriving in Neukirchen, Austria, by May 6. In addition to his Bronze Star, Bill also received a Purple Heart for minor shrapnel wounds to his elbow. When he was hit, he thought his arm was gone and didn't want to look at it. Thankfully it wasn't that serious and he was quickly patched up and sent back into action. Although this injury was able to be treated, the sounds and the memories of his service time would remain with him throughout his life, most notably in nightmares and reactions to sonic booms overhead.
Bill returned home to Texas and on December 27, 1945, he married the former Alta Juanita May. She was born in Graford, Texas, and was the daughter of Jasper May and Girtie Spurlock. The couple stayed in Graford and had one daughter, Anita Lynn, in 1947. Bill ran the Texaco gas station in town for a few years but then went to work for the Possum Kingdom Dam on Possum Kingdom Lake near Graford. At first he worked as a turbine operator but later he became a switchboard operator.
In his spare time, Bill enjoyed gardening and fishing and was a member of the Graford Methodist Church. Later in life, he joined the DAV (Disabled American Veterans) organization. In the last few years of his life, he lived in Weatherford, Texas. He passed away on March 22, 1984, and was buried in the Graford Cemetery. I want to thank Bill's daughter, Anita, for providing the information and photo of her father used in this tribute.