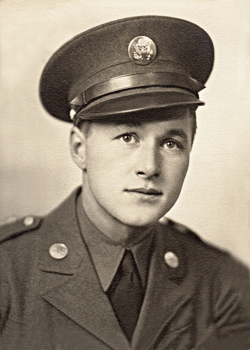 Donald K. Crawford
Biography: Donald Kline Crawford, "Don", was born on December 27, 1916, in Mount Pleasant Township, Columbia County, Pennsylvania. He was the son of Thomas Frank Crawford and Helen Arlene Kline. Don attended the Fester School and later graduated from the former Scott High School in 1935. Prior to entering the service, he was a farmer.
Service Time: Don enlisted in the National Guard at Bloomsburg, PA, in May, 1940, serving in the HQ Company of the 22nd Infantry Division. In February of 1941, all National Guard units were federalized for one year. His unit was soon shipped to Fort Meade, Maryland, and in addition to their training, they worked building the new facilities at the Fort. Upon their arrival, they were re-designated as the 105th Anti-tank Battalion, Company A. Maneuvers at Fort A. P. Hill, Virginia, lasted for 6 weeks in the summer followed by a return to Fort Meade.
In September they participated in maneuvers in North Carolina for 3 months and again headed back to Fort Meade. They bivouacked at Fort Hill the night of Dec. 6, 1941, and after learning of the Pearl Harbor attack the next morning, they were informed they were in the military for the 'duration'. They continued training at Fort Meade, with Don making Sergeant in January, 1942, and the unit was re-designated the 805th Tank Destroyer Battalion. In late March, Don married the former Helen Smith in Baltimore, MD. She was the daughter of Clifton and Celica Smith.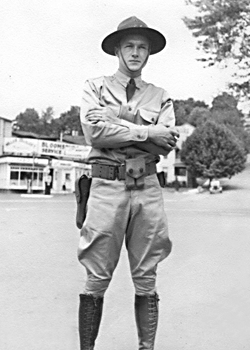 In May, he was one of 34 men chosen from the 805th who were detached and attached to the 'Army War Show'. This show toured around the country visiting 18 large cities with the purpose of "That our people may all see their Army and be inspired to greater effort in supporting it with full confidence in its leadership and purpose". After the last show in mid-December, it was disbanded. The tank destroyer detachment was sent to Camp Gordon, Georgia, and assigned to the 692nd TD Bn. Training continued in 1943 at Camp Bowie, along with W. and S. Camp Hood, all in Texas, and Don's 1st daughter, Janet was born. Next was Camp Phillips, Kansas, in November, 1943, followed by more maneuvers in Tennessee and additional training at Camp Campbell, Kentucky.
On September 12, 1944, the unit left the New York Port aboard "The Scythia". On the 25th, they disembarked at Cherbourg, France, and were soon attached to the 104th Inf. Div, entering the line near Wuustwezel, Belgium, in late October. Don was wounded on Dec. 6th when the jeep he was driving, with another soldier, hit a land mine. In February, the 692nd turned in their towed 3" guns and converted to the M36 tank destroyer. Don was a TD commander overseeing 4 other men in the crew. He was awarded a Bronze Star for Valor after running through intense enemy fire to evacuate a damaged tank destroyer on Feb. 7, 1945.
On April 17, Don was promoted to Staff Sergeant after one of his platoon leaders was killed. The 692nd was credited with the campaigns of Rhineland, Ardennes-Alsace and Central Europe. In addition to the Bronze Star, Don was also awarded the following medals: Purple Heart, Good Conduct, EAME, WWII Victory and the American Theater. He left the service at Indiantown Gap, PA, on October 4, 1945, at the rank of Staff Sergeant.
Post-Service Time: Don returned home to his wife and daughter. He soon began a 24 year career with Girton Sales Co. in Millville, PA. In addition to Janet, he and Helen had four more children, Gary born in 1946, Derl in 1948, Joan in 1950 and Ross in 1953. Don later delivered milk for Zerbin Kline and finally retired in 1980. He was an avid outdoorsman and enjoyed hunting. He was a longtime member of the Greenwood United Methodist Church, serving as a trustee, Sunday school teacher and Sunday school superintendent. He belonged to the Millville American Legion, Post 564 and the Military Order of Purple Heart, Chapter 529.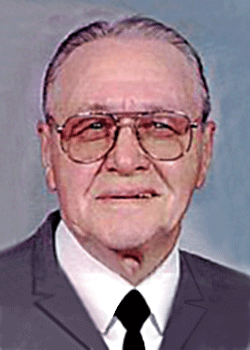 Don and Helen held the 1st 692nd reunion at their home in 1972. Subsequent reunions were held in various locations into the mid 1990's and a newsletter was also published for many years. Don passed away on December 2, 2012, and was buried in the Elan Memorial Park, Lime Ridge, PA. We would like to thank Don's son, Ross, for providing the photos and information used in this tribute and additional materials on the 692nd, which are posted on the unit page.