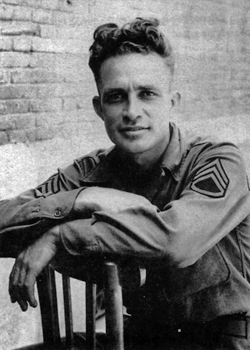 Fred Chase
Biography: Fred Chase was born on April 12, 1917 in Wathena, Kansas, to Henry Chase and Catherine Miller. He was the sixth of nine boys born to the couple. Fred married the former Ruby Cecilia LaBarge and they had two sons, Patrick and James.
Service Time: Fred enlisted in Company A, 137th Infantry of the Kansas National Guard on March 12th, 1940, at Atchison, Kansas. The 137th was called to active duty on December 23, 1940, along with the 35th Infantry Division. The 35th Division was sent to Fort Robinson, Arkansas, for advanced infantry training and then to California to perform coastal defense duties. In 1943, the unit was sent to Fort Rucker, Alabama, for further training in anticipation of being sent overseas. At Fort Rucker, now Sergeant Chase was detached from the the 137th Infantry when his oldest son was struck by a car, just outside the main gate of the post, and seriously injured.
After his son had recuperated, Sergeant Chase was sent overseas as a replacement. While at the replacement depot in Oran, Algeria, and although he had no experience in armor, he was assigned to B Company of the 894th Tank Destroyer Battalion. He was chosen to replace a platoon sergeant that had been critically wounded at the battle of Kasserine Pass.
While in the vicinity of San Gimignano on July 16, 1944, one of B Company's M10s received a direct hit from enemy artillery, which injured the entire crew. Staff Sergeant Chase left his own TD and, while still under enemy shelling, ran across open terrain to provide assistance and first aid. He moved the crew to shelter and stayed with them until they could be evacuated. His heroic actions saved the life of at least one of the men and earned SSgt. Chase the Bronze Star.
SSgt. Chase participated in six of the unit's campaigns, including Tunisia, Naples-Foggia, Anzio, Rome-Arno, Northern Appenines and the Po Valley. He made combat landings at Salerno and Anzio with B Company, which was awarded the Presidential Unit Citation for breaking out of a German encirclement at Carroceto at the Anzio Beachead. He was severely wounded at Forti di Marmi in Northern Italy and received the Purple Heart in recognition of his injuries.
After his discharge in 1945, Fred entered the furniture manufacturing business in Southern California and became a highly successful owner and production manager of a number of furniture plants. Fred and Ruby also had a third son they named Fred. The senior Fred was an active member of the Elks and Eagles clubs as well as the B Company, 894th Tank Destroyer Association and the A Company, 137th Infantry Association.
Fred passed away on May 28, 1993, and was buried in the Maple Grove Cemetery in Farmer City, Illinois. I want to thank Fred's son, Patrick, for providing the information and photo from this tribute.