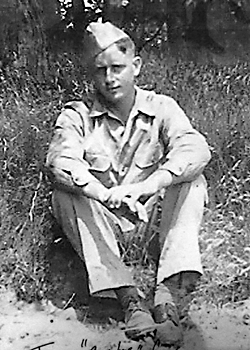 James B. Cox
Biography: James Buster Cox, nicknamed "Bus", was born on September 18, 1920, in Lawton, Indiana. He was one of six children, born to James Henry Cox and Chloe Marie Cunningham and attended LaPaz High School through the 10th grade. After leaving school, he worked part-time for Homer Seltenright, who was a local farmer. You can see James below with Homer's prize bull. In May of 1941, we know that he was working for The Davey Tree Expert Company of Kent, Ohio.
Pay Stub – Davey Tree Expert Co.

His enlistment record identifies that just prior to the war, he was working in some type of warehousing, store-keeping or material handling occupation.
Service Time: James entered the service on June 17, 1942, at Indianapolis, Indiana. He was assigned to 3rd platoon, Company C, of the 603rd Tank Destroyer Battalion and served as a TD Driver. The unit shipped out from the New York port on April 11, 1944, and arrived at Cannock, England, on April 18th. After some additional training and preparations, they boarded transports and landed at Utah Beach on July 21st and 22nd.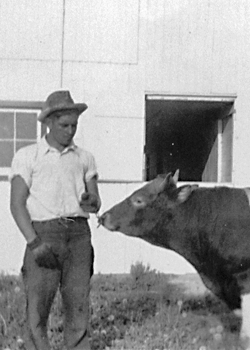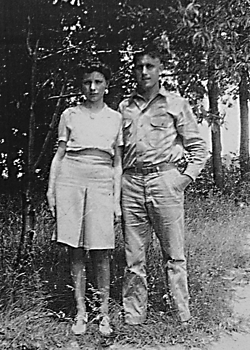 The photo on right above, shows James with his fiancée, Garnett. The photo below shows James on far right with his father in center and his brother Jordan on far left. Both photos as well as the main photo were probably taken while he was on leave.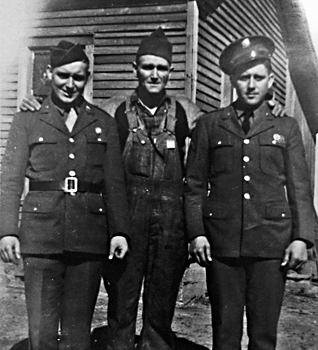 The 603rd was committed to battle on July 28th, during the Cobra breakout, and advanced through Brittany to Brest and then Lorient in August. They then raced east to the Moselle River sector in September and fought east of Nancy, France, in October, supporting the push to the Saar River in November. The unit battled to Sarreguemines, France, in December and shifted to Bastogne to support the counterattack against the Bulge. They crossed the Our River and fought through the Siegfried Line in February, 1945, moving to the Seventh Army sector in March and reaching the Rhine River at Rhine-Durkheim, on March 21st.
They were reassigned to the Third Army and crossed the Rhine river at Oppenheim on March 25th. They attacked through the Fulda Gap toward Erfurt in late March and April. James' Third Platoon was one of a few units that downed a German fighter aircraft with machine gun fire. The unit's After Action Reports identify the plane as being a Focke-Wulf Fw 190. On April 13th, Company C was supporting Combat Command B's advance east and Technician 4th Grade James B. Cox was killed in action at Groitzsch, Germany. During these same actions, Sgt. Hershel Tipton, T5 Millard J. Foster, Milton A. Miller and Chapel Hollingsworth were wounded and received Purple Heart medals.
James was temporarily buried and posthumously awarded the Purple Heart. This was actually his second Purple Heart since he had been previously wounded. A almost four years later, his family was notified, in February of 1949, that he had been moved to his final resting place, the American Cemetery, Margraten, Netherlands , Plot B, Row 2, Grave 24.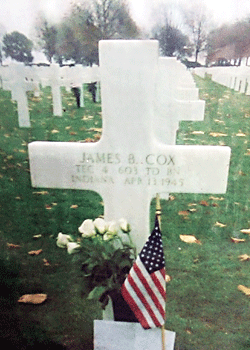 I want to thank James' nephew, Mark, for providing the information and photos for this tribute. A special thank you to Margriet Van Dijk Slangen, who cared for James' grave for many years through the Margraten Adopt-A-Grave program and to family friends Bert and Erika Hanneman, who have recently taken over the grave site care.
A newspaper article identifies that James' brothers, Jordan and William, also served in WWII. At the time of his death, Pfc Jordan Cox was in England and S1c William H. Cox was in the Pacific.