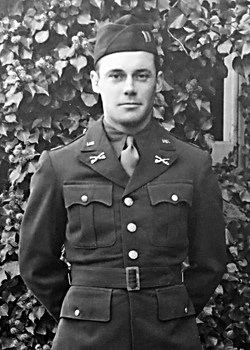 Wallace L. Clement
Biography: Wallace Leo Clement was born on July 22, 1918, in Cambridge, Massachusetts. He was the second son born to Arthur J. Clement and Helen Theresa Murphy, and had an older brother, Arthur, and younger brother Lawrence. Arthur Sr's family had immigrated to the U.S. from Montreal, Canada, around 1895, and he was automatically naturalized when his father Charles was.
Wallace's father held a number of positions including restaurant and smoke shop owner but the turbulent Depression years, and his mother's heart problems required a number of residence moves along with numerous schools for him to attend. Some of the schools included St. Paul's in Cambridge, St. Domenic's Academy and Our Lady of the Presentation School, in Brighton, MA. Along the way, his voice won him a position in the choir but his favorite activities included baseball, football, hockey and swimming. He would later pick up boxing, tennis and golf.
His desire was to go to the Naval Academy in Annapolis with a Congressional Appointment but when he failed to pick out numbers from the colored dots during an eye test, he was directed to West Point because the Army's sight requirements were not as high.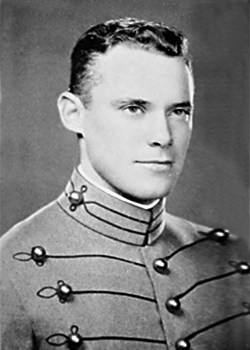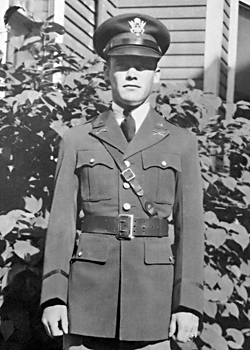 While at West Point, Wallace considered himself an average student but he was certainly an above average athlete, playing baseball all four years and winning an intercollegiate boxing championship in 1940. He graduated on June 11, 1940, with grades high enough to be commissioned in the horse cavalry.
Service Time: He was initially assigned to the 11th Cavalry, which was serving on the Mexican border in Southern California, but he was first sent to Cavalry School at Fort Riley, Kansas, for their Basic Horse and Mechanized Course. After the course was completed, he joined the unit which was stationed at the Presidio of Monterey, CA. He served as the Machine Gun Platoon Leader of Troop E, Second Squadron.
At his own request, he left the unit on April 1, 1942, for an assignment with the 804th Tank Destroyer Battalion. At the time, the unit was serving as airdrome security at March Field, CA. Wallace joined the unit as Commander of Company A and moved with them to the Desert Training Center for a month of intensive training. From there it was onto La Mesa, CA, for two months of training and coastal patrol. Next they were sent to the newly organized Tank Destroyer Center at Camp Hood, Texas, for combat training. They were there for another two months while the camp was still under construction. The 804th was one of the first five battalions to train at the new facility.
On July 29, 1942, the unit boarded a train bound for Indiantown Gap, Pennsylvania, which was a staging area for units going overseas. Thirty-six hours later, they were on another train bound for New York. On August 6th, the unit boarded the Thomas H. Barry transport headed for the United Kingdom. They arrived at Belfast, Ireland, on the 17th and proceeded to train for actions in North Africa. They sailed from England on January 15, 1943, arriving at Oran, Algeria, on February 1st.
The unit initially trained French troops on M10 tank destroyers in North Africa and were held in reserve as replacements for operations at the Kasserine Pass. They moved further south to Sebdou, Algeria, where the Fifth Army was establishing a Tank Destroyer Training Center. The 804th was the first unit to attend the Center. Several officers and enlisted men left to act as observers to the units fighting in Tunisia. The 804th was assigned to guard German prisoners being shipped to the U.S., and shipped out from Oran on July 30, 1943. They were back in Sebdou by October, when their gun companies received training in artillery methods. In January 1944, the unit was attached to the 88th Infantry Division. Wallace felt that the close contact with infantry and artillery units of the division was very beneficial when they eventually went into combat with them.
The 804th shipped out with the 88th Division on February 1, 1944, and arrived at Naples, Italy, on February 8th. They moved to Gustav Line along the Garigliano River by March 9th and entered Rome on June 4th. On May 1st, Wallace became Executive Officer for Lt. Col. Fred G. Rowell who had taken command of the unit in March.
Wallace was promoted to Major on July 15th, while the unit was at Castiglioncello, Italy, and on the 18th the unit carried doughs (foot troops) into Livorno, crossing the Arno River in September. They supported the attack on the Gothic Line through October and broke into the Po River Valley in April, 1945.
Distinguished Service Cross – Citation
On April 19th, Wallace was ordered to rejoin the battalion. He and his driver, Roy Johnson, approached a small village where they were ambushed and Roy was shot and killed. The vehicle veered off the road and flipped on its side. He hit his head on the steering wheel and was unconscious for a brief period. He was taken prisoner and moved farther behind enemy lines. His trip involved a horse-drawn wagon, swimming, walking and a bus, finally ending up in a POW Camp, in Trento, Italy. On May 2nd, he was called into the Commandant's Office, who was a Major, and told that allied troops would be there soon. The Major also gave him an Italian Beretta pistol and ammunition, just in case he needed it. He was moved to an airfield and they waited for three days until they were finally picked up by an ammunition truck of the 10th Mountain Division. He remained with the 10th and continued to the Swiss border, and although he probably could have been sent home, he asked to be reconnected with his unit. He was placed on an artillery liaison plane to Feltre, Italy, and was reunited with his unit on May 7th.
His reunion with the unit included champagne and cognac liberated from a large stock found in Bolzano, Italy. A few weeks later on June 4th, the Battalion Commander received orders to return home and Wallace was placed in command. He finally shipped back to the U.S. on July 18th aboard the Victory Ship Marine Raven, landing at Newport News, Virginia, on the 31st. The unit was ordered to regroup at Fort Hood, Texas, prior to their expected shipment to Japan but when they arrived at Fort Hood, they learned the unit had already been inactivated.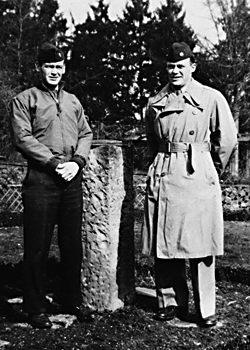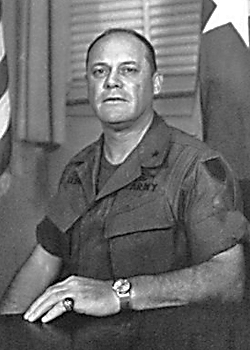 The photo above left, taken in 1946, shows Major Clement L. Wallace, at right, with his brother Lt. Lawrence Clement while on occupation duty in Germany. The photo at right is Brigadier General Wallace while serving as Assistant Division Commander of the 23rd Infantry Division, also known as the "Americal Division" in Vietnam.
Wallace was reassigned to Fourth Army Headquarters at Fort Sam Houston, San Antonio, TX, on October 11th, and after a brief stay there, he volunteered to go back to Germany for occupational duties. He commanded the 17th Mechanized Cavalry Reconnaissance Squadron from 1946 to 1947 and in 1948 he took the Armor Advanced Course at Fort Knox. Kentucky. He had married in 1942, but that relationship ended in divorce while he was serving in Africa in 1943. He married the former Martha Mansfield in 1951. He attended the Command and General Staff College in 1952, and was then summoned to Korea. Now a Lieutenant Colonel, Wallace L. Clement took command of the 245th Tank Battalion of the 45th Infantry Division on October 1st. He later served as commander of the 3rd Battalion, 279th Infantry, from April 1953 until after the truce was signed in August 1953.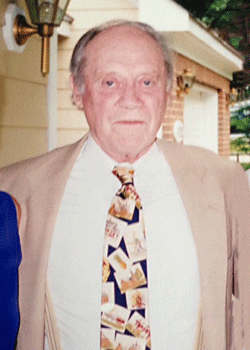 After returning to the U.S., he served in a number of administrative positions here at home but also in London and Germany. On November 29, 1965, he was nominated for Brigadier General, eventually being promoted on June 1, 1966. He furthered his education at George Washington University, receiving his Master's Degree in International Relations. His final assignments were as Assistant Division Commander of the 23rd Infantry Division in Vietnam and later as Director of Training for South Vietnamese Army Forces.
Among the many awards given to General Clement, some of the more notable are the Distinguished Service Cross, Silver Star, Bronze Star, Legion of Merit, Distinguished Service Medal, the Italian Medal for Valor and the South Vietnamese Army Distinguished Service Order (1st Class).
General Clement retired on July 31, 1970, after 30 years of military service with 10 of those years being served overseas. He worked for a number of private companies providing military oriented studies before retiring to Williamsburg, Virginia, in 1985. He then worked for the Colonial Williamsburg Foundation as an interpreter. He and his wife Martha had five children, Sarah, Anne, Ellen, David and Doug. General Clement later married again and spentd his retirement with Joan, who had two children of her own, Michael and Cynthia.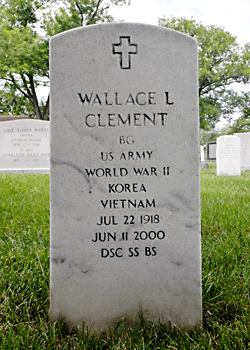 General Clement passed away on June 11, 2000, and was buried in Arlington National Cemetery, Arlington, Virginia.
Most of the information included in this tribute was taken from the memoirs of General Clement. His writings have been skillfully woven into book form by Dr. Sean M. Heuvel, who lived down the street from the General, and grew up hearing these stories first hand. What I have shared here is just a hint of the interesting material provided in the book. It's available from Amazon with all proceeds going to the Long Gray Line Fund at West Point. You can find the book available at the following link:
Nothing Impossible – Memoirs of a United States Cavalryman in World War 2
I want to thank the Clement family for sharing these writings. General Wallace L. Clement was a true hero and is an example of the Army's best. I also want to thank Find A Grave contributor, Paul Hays, for the use of the grave marker photo.