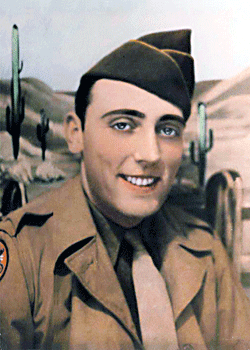 Carl Coots Jr.
Biography: Carl Coots Jr. was born on May 1, 1922, in Newburgh, Warrick County, Indiana. He was the son of Carl and Vera Coots and attended elementary and high school in Newburgh. In 1940, Carl's senior year, his father passed away from black lung disease. Carl dropped out to help support his mother and younger brother, Gayle.
In 1941, Carl moved to Evansville, IN., and became a rigger with International Steel.
Service Time: Carl was drafted on December 28, 1942, and entered active service on January 4, 1943. He completed basic training at Camp Gordon, Georgia, and was assigned to the newly formed 811th Tank Destroyer Battalion. The unit included a number of men from Indiana, Ohio, West Virginia and Kentucky.
He trained at a number of camps including, Camp Hood, Texas, Camp Carson, Colorado., Camp Lagua, Arizona, and Camp Gruber, Oklahoma. He qualified as a Sharpshooter with the rifle and an Expert with the Sub-machine gun. Carl served as a driver in an M8 or M20 reconnaissance car in the Headquarters Platoon of B Company.
On September 4, 1944, the unit sailed from the Boston Port of Embarkation and arrived at Cherbourg Harbor, France, on September 15, 1944. The unit was equipped with M18 Tank Destroyers. They moved to the Valognes, France, staging area followed by Luxembourg in November and participation in the Battle of the Bulge in December, helping to relieve Bastogne.
The battalion was scattered widely with pieces attached to many divisions into January, 1945. They supported operations against the Siegfried Line in February and early March and then advanced to the Rhine River in late March. They crossed on March 30th and supported the 80th Infantry Division in the capture of Kassel, Germany. The 811th advanced to Erfurt and Chemnitz in April and moved south, crossing the Danube River to Regensburg. They finally entered Austria on May 5th.
Carl was discharged from the Army on December 7, 1945, at Fort Knox, Kentucky. He left the service at the rank of Technician 4th Grade. He received the EAMEl, WWII Victory, Army of Occupation for Germany, WWII Campaign and the Good Conduct Medals.
He returned to Evansville and later started working at Whirlpool, where he continued until his retirement. He was never married and in his spare time, he spent a lot of time with his brother at the Ellis Park horse racing track in Henderson, KY.
Carl passed away on July 10, 1987, and was buried in the Rose Hill Cemetery in Newburgh, Indiana. I want to thank Carl's cousin, Paul, for providing the information and photo for this tribute.