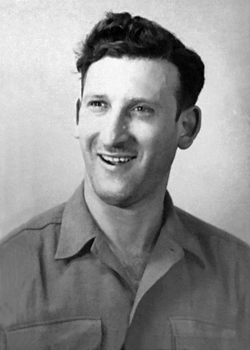 Harry Cohen
Biography: Harry Cohen was born on September 26, 1915, in Brooklyn, New York. He was the son of David and Rebecca Cohen and attended Jefferson High School through the 9th grade. He then worked at a mattress factory.
Service Time: Harry entered the service on January 13, 1942, at Fort Dix, New Jersey. After his basic training, he was assigned to the 809th Tank Destroyer Battalion and trained with them, specifically functioning as a driver of a tank destroyer. During his time in the service, he was affectionately given the nickname "Horse".
Harry's girlfriend, Ruth Rosenberg, did her best to follow him around the country, from military base to base, during his training. The couple finally married while he was on leave. Ruth was also born in Brooklyn and was the daughter of Abe Rosenberg and Rose Schreiber.
The 809th shipped out from the New York port on November 30, 1944, aboard the SS Pasteur, which was a French ocean liner named after the famous French biologist and chemist, Louis Pasteur. The ship sailed alone due to its 26 knots top speed and arrived in Liverpool, England, on December 8th. Harry mentions in a letter, written after the war, that he volunteered for kitchen duty and was able to eat what the officers ate. He also told his family that he had peeled a lot of potatoes.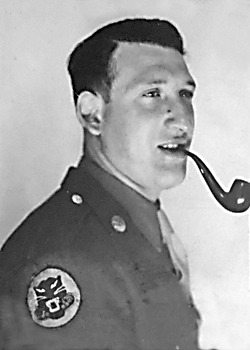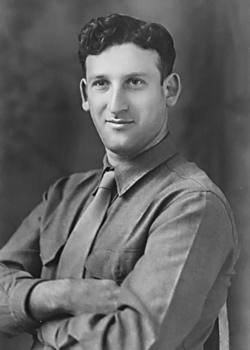 The unit moved south to prepare for military operations in France. They boarded transports on January 21, 1945, and arrived in Le Havre on the 22nd, equipped with M18 tank destroyers. The 809th supported the Roer River crossing in late February, and crossed the Rhine River on March 27th. They then supported operations against the Ruhr Pocket in April and converted to the M36 tank destroyer that same month. Their last operations were helping to clear the Harz Mountains in late April.
Harry was reassigned to Company B of the 703rd Tank Destroyer Battalion, possibly to finish out his required service time. He was involved in an accident with his tank destroyer, which is believed to have rolled over and his back was injured. He spent time in a Paris hospital which delayed his return home. He ended up cathing a ride on a prison ship to return to the U.S. He left the service at the rank of Private.
Now back in Brooklyn, Harry and Ruth started their family, having two sons, David born in 1947, and Richard born in 1955. Although Harry had a few business opportunities, Ruth urged him to find a steady job with benefits. He found a job with the U.S. Post Office and although he still suffered from the back injuries he received during the war, he carried the mail and retired after 34 years.
In his spare time, Harry was an avid New York Mets fan and was also a member of the Knights of Pythias, which was a fraternal organization, promoting friendship among men. Harry passed away on April 28, 1977, and was buried in the New Montefiore Cemetery, on Long Island, NY. I want to thank Harry's son, Dave, for providing the information and photos for this tribute.