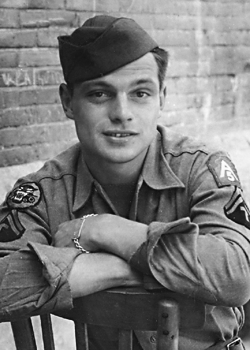 Horace L. Cayen
Biography: Horace Leo Cayen was born on August 3, 1923, in Ottawa, Canada. He was the son on Leo Cayen and Florence Dulacesuer who divorced when he was around three years old. Horace was then sent to live with his father's grandfather and uncles who lived in the Adirondack mountains of New York. He attended school in Camden, NY, through the 10th grade and then went to work as a brake grinder.
Service Time: Horace entered the service on January 15, 1943, at Syracuse, NY. He was assigned to the 645th Tank Destroyer Battalion, which trained at various locations within the U.S. with portions shipping out from the New York and Hampton Roads, Virginia, ports enroute to Algeria. They arrived in Algeria in May, 1943, and began training for the Invasion of Italy.
The 645th landed at Paestum, Italy, on September 9th and participated in the drive up the Italian peninsula. They then shifted to the Anzio beachhead in February, 1944, and were then withdrawn for training in June, 1944, to participate in Operation Dragoon. They landed on August 15th in southern France and advanced to the Vosges Mountains near Grandvillers by October.
Joining the assault on the Siegfried Line in December near Bobenthal, Germany, they fought the German Nordwind offensive in January, 1945. They converted to M36 tank destroyers, beginning late January, and attacked the Siegfried Line again south of Sarreguemines in March. On March 25th, they crossed the Rhine River at Worms and helped reduce the Nazi stand at Aschaffenburg at month's end, capturing Nürnberg in mid-April. They finally reached Munich on April 29th. The 645th received credit for the campaigns of Naples-Foggia, Rome Arno, Southern France, Rhineland, Ardennes-Alsace and Central Europe. Horace left the service at the rank of Master Sergeant.
Now back in the U.S., Horace worked in construction and was self-employed throughout most of his career doing both commercial and residential jobs. On March 9, 1946, he married the former Mildred Smith who was born in Morganton, North Carolina, and was the daughter of Albert Smith and Mabel Duckworth. The new couple made their home in Syracuse, NY, and had four children, Ronald, Daniel, Diane and Judy. In his spare time, Horace enjoyed hunting and fishing.
Horace passed away on March 21, 2002, and was buried in North Syracuse. I want to thank Horace's son, Ron, for providing the information and photo for this tribute.