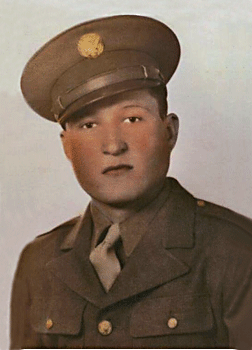 Francisco O. Chapa
Biography: Francisco Olivares Chapa was born on October 10, 1922, in Sinton, Texas. He was the son of Juan Jesus Chapa and Cruz Olivares and attended school through the 3rd grade, when he dropped out to help his family work the area ranches.
Service Time: Francisco entered the service on November 20, 1942, at Fort Bliss in El Paso, Texas. After his basic training, he was assigned to C Company of the 823rd Tank Destroyer Battalion. The 823rd trained at a number of military bases including Camps Bowie and Hood, Texas, and Camp Clairborne, Louisiana, where they were located prior to participating in the Louisiana maneuvers.
The unit boarded trains on March 9, 1944. enroute to Camp Myles Standish, and the Boston port, where they arrived on the 12th to begin their final preparations for the trip overseas. On April 6th, they loaded the U.S.S. Sea Porpoise and sailed for England, arriving in Newport, Wales, on the 17th after an uneventful trip.
After some additional training and a delay, they boarded three LSTs and landed on Omaha Beach, Normandy, France, on June 24, 1944. They were equipped with 3″ towed guns and went into action within 24 hours of their arrival. Supporting the drive on St. Lô, they fought at Mortain in August and passed through Belgium and Holland, entering Germany on September 17th.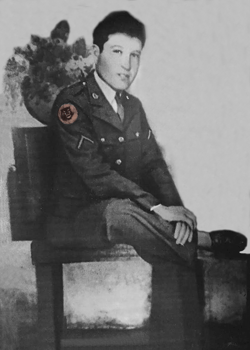 Fighting along the Siegfried Line in October, which included the encirclement of Aachen, the 823rd converted to M10 tank destroyers beginning in November, and shifted to the Ardennes in late December, fighting to eliminate the Bulge in January, 1945. They crossed the Roer River on February 24th and the Rhine River on March 24th. The unit raced eastward to the Elbe River, at Magdeburg, in April and finally began military occupation duties on April 21st.
The 823rd received credit for the campaigns of Normandy, Northern France, Rhineland, Ardennes-Alsace and Central Europe. Francisco received the Purple Heart Medal with Oak Leaf Cluster signifying that he had been wounded twice. His first injury came very soon after his arrival in France, the other occurred when his tank destroyer was destroyed by a German bomber. Only Francisco and one other man survived. After exiting the TD, the men became disoriented as to where they were in relation to enemy lines. They sought shelter in a German home and Francisco actually shot at his reflection in a mirror thinking is was an enemy soldier. He was so badly wounded, particularly his arm, and couldn't recognize himself.
The family in the house were Catholic and were able to communicate to Francisco and the other soldier that they knew where the Americans were and that they wanted to help them get back to the Allied side. The family did help them and he was able to receive medical treatment for his wounds. Francisco spent several years recovering from his wounds and, since his arm was so seriously injured, he was told that amputation would be necessary. He refused to allow the doctors to do so, and told them that he was determined to recover. Throughout everything he had been through, his Catholic faith provided the strength and perseverance to endure. For the rest of his life, Francisco continued to have shrapnel work its way through his skin. In addition to the Purple Hearts, he received the EAME, World War II Victory, American Theater and the Good Conduct Medals. He left the service at the rank of Sergeant, in 1947, and returned to Texas.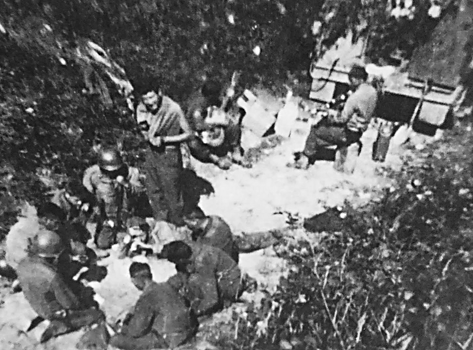 To the left, you can see Francisco standing while the rest of the crew takes a needed break from the action.
On February 27, 1949, Francisco married the former Virginia Tijerina and the new couple made their home in Odem, Texas. They had six children, Lydia, Lynda, Frank Jr., Mindy, Diego and Lottie. Francisco worked as a civil servant for the Naval Air Station in Corpus Christi. After his retirement, he started to work at the Del Mar College, also in Corpus Christi. It was during this time that he worked with Dr. Hector P. Garcia, and the American Forum, to bring a discrimination lawsuit against the Odem Independent School District which they were successful in winning. Francisco was later recognized, by a Resolution of the House of Representatives in the Texas State Legislature, not only for his efforts to end discrimination but additionally for his contributions as a soldier and citizen of Texas.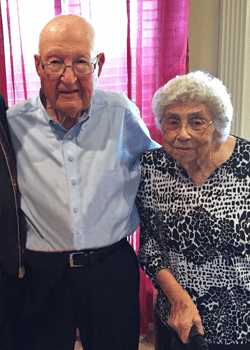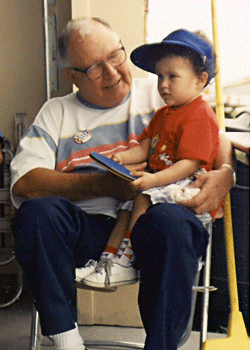 In addition to his work, he was a devout Catholic, a proud father and grandfather. He was also an avid Dallas Cowboys football fan and football watcher. He loved his country and spread pride and patriotism wherever he went. Francisco passed away on June 30, 2016, and was buried in the San Pedro Cemetery in Odem, Texas. I want to thank Francisco's grandson, Nick, for providing the photos and information for this tribute.
In the photo above left, Francisco is shown with his wife Virginia and they were married for 66 years. The photo above right shows Francisco holding his grandson, Nick.