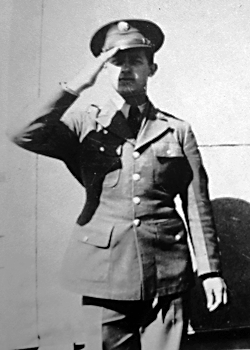 Anthony F. Calvanese
Biography: Anthony Francis Calvanese "Tony" was born on August 11, 1922, in Massachusetts. He was the son of Andrea Calvanese and Rose Parisi and attended local schools through the ninth grade. His enlistment record identifies that he worked in a semi-skilled machine shop, or some type of related occupation, prior to the war.
Service Time: Tony entered the service on September 9, 1942, at Springfield, MA. After his initial training, he was assigned to Company A of the 825th Tank Destroyer Battalion and trained with them at a number of military facilities including Fort McPherson, Georgia, Camp Bowie and Camp Hood, Texas, and Camp Phillips, Kansas. They took a brief break from their normal duties, in the summer of 1943, to assist with the grain harvest in North Dakota.
They continued their training, taking part in maneuvers held in Tennessee and then onto Camp Campbell, Kentucky in January, 1944, followed by Camp Breckinridge, also in KY. On May 25th, they were sent by rail to Camp Kilmer, New Jersey, for final preparations prior to shipping overseas. The 825th sailed from the New York port on May 30th, aboard the Queen Elizabeth, arriving in Scotland on June 5th. After an additional 2 months of training, the men and equipment were loaded on LST's and arrived on Utah Beach in Normandy, France. They were initially assigned to the Communications Zone and performed 12th Army Group security duties between August and December, 1944.
On 17 December, the battalion entered combat near Malmedy, Belgium, and on the morning of December 18, 1944, two towed 3″ anti tank guns of Lieutenant Jack Doherty's 1st Platoon, Company A, were knocked out by Kampfgruppe Peiper (formation led by Waffen SS Officer Joachin Peiper) after crossing the Amblève River bridge at Stavelot. Sergeants Jonas Whaley and John G. Armstrong were the two tank destroyer commanders and during the battle, Sgt. Armstrong and five other soldiers of Company A were killed. There were only two survivors, Pvt. Tony Calvanese, who sought refuge in nearby houses, and Léo Brunette who escaped back across the river.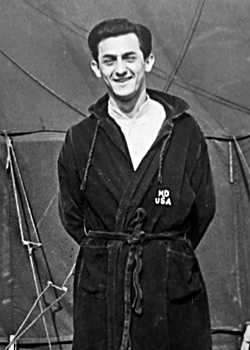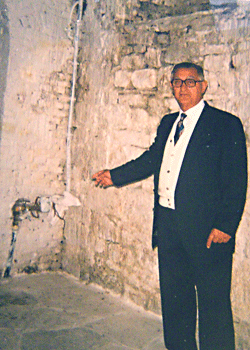 Tony was badly injured, but managed to find shelter. Two young men from the area, Marcel Ozer and Louis Van Lancker, recognized that he urgently needed medical attention, and agreed to carry him back across the river to a Catholic hospital, housed in the Abbey of Stavelot. While searching for assistance, Marcel was also wounded in the shoulder but ignored his own wounds to help Tony. In addition to Marcel and Louis, Berthe Beaupin, her brother Gustav and a priest, Father Bernard, accompanied them. The men found a nurse and loaded him on a stretcher, covering Tony with a blanket to hide him from the German troops controlling the area. As they neared the bridge, a German Panther tank rounded the bend and Marcel urged the group to quickly take positions behind the tank and follow it across the bridge. They continued toward the center of town and hid Tony in the basement of the Abbey. Marcel stayed with him until soldiers of the 117th Infantry re-took the town and evacuated Tony. Before leaving, Marcel gave Tony a picture of himself and wrote his name on the back. The photo above left shows Tony recuperating from his injuries. The photo at right is the basement of the Abbey, where he had been hidden.
The 825th received credit for participation in the campaigns of Northern France, Ardennes-Alsace, Rhineland and Central Europe. Tony received the Purple Heart and left the service at the rank of Pvt.
Anthony returned to the U.S. and married the former Mary Pepe. The couple had two sons, Andrew and Anthony Jr., and Tony worked for the WICO Electric Company in West Springfield. In the late sixties, he became the President of the local AFL-CIO representing his fellow union employees.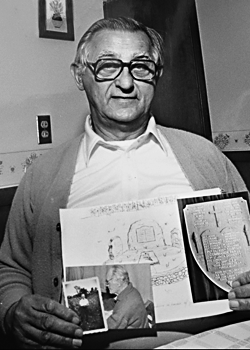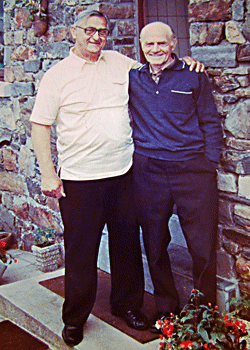 For 45 years, Tony held onto the photo of Marcel that he had been given that day in December of 1944. He traveled back to Stavelot, Belgium, to get in touch with one of the people who saved his life. On June 2, 1989, he easily found Marcel who was still living near the bridge where Tony was injured. The two men began a real friendship that had started all those many years before. Tony invited Marcel and his wife Julia to visit him in the U.S., which they did on two occasions. You can see Tony, above left, holding the small photo Marcel had given him. Above right is Tony and Marcel during their meeting in 1989.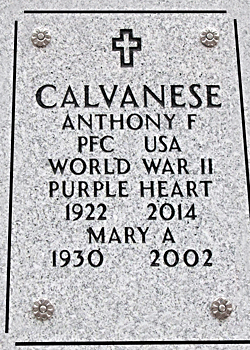 Tony passed away on December 17, 2014, and was buried in the Massachusetts Veterans Memorial Cemetery in Agawam, Massachusetts. I want to first thank the men and woman that came to Tony's aid during the war; Marcel, Louis, Berthe, Gustav and Father Bernard. I also want to thank Marcel's granddaughter, Aline, who provided the photos and article for this tribute. Lastly, I want to thank Serge Lemaire, who is also from Belgium and was a friend of Marcel. He gathered all the materials and provided them to us in Honor of Tony and their friend Marcel.