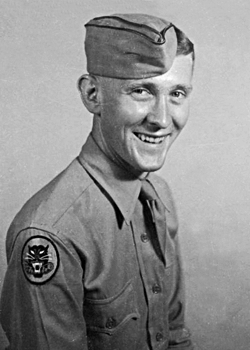 Werner A. Drechsel
Biography: Werner Alfred Drechsel was born on October 3, 1922, in Thalheim, Germany, which is in the Saxony region of eastern Germany. He was the son of Alfred P. Drechsel and Elsa Hofmann and when Werner was 3 years old, the family moved to the United States. He attended school in Philadelphia, Pennsylvania, through the 12th grade and his enlistment record indicates that he had also attended college for 1 year. He worked as a machinist's apprentice prior to the war.
Service Time: Werner entered the service on December 30, 1942, at Philadelphia and was eventually assigned to Company C of the 819th Tank Destroyer Battalion. The battalion received training at a number of military facilities including Camp Chaffee, Arkansas and Camp Bowie and Camp Hood in Texas.
On July 25, 1943, the unit moved to Camp Ibis, California, which was part of the Desert Training Center. They remained there for over 7 months until they received their orders for overseas duty. They moved to Camp Stoneman, CA for final preparations before shipment. On March 15, 1944, the battalion boarded the USS George O. Squier and shipped out from the San Francisco port, arriving in Hawaii on the 24th.
While in Hawaii, the 819th continued their training, made improvements to the facilities and handled assignments in observation points and security posts. On November 17th, the unit's table of organization was changed from using towed 3″ guns to self-propelled M10 tank destroyers. On January 12, 1945, they boarded the USS Eastland and shipped to Peleliu, in the Palau Islands, arriving on February 1st. Werner's Company C traveled to Anguar by LCTs (Landing Craft Tank) and were assigned island defense duties. They now had time to train with their new M10s and select appropriate positions for gun placement.

On August 17th, C Company was relieved by B Company and was able to join the rest of the battalion. After the surrender of Japan on September 2nd, the battalion spent most of its time doing weapon and vehicle maintenance. The 819th received credit for the Western Pacific (Peleiu) Campaign and Werner was discharged in December. He left the Army at the rank of Technician 4th Grade.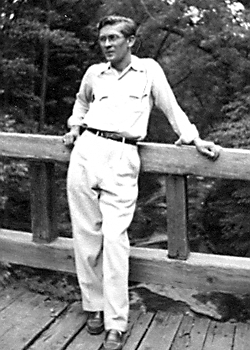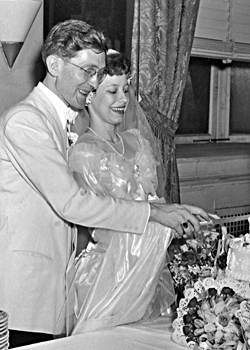 Werner returned to the U.S. and went to work as a tool and die maker. He continued in that profession for over 50 years. He was employed by the Unique Machine Company in Montgomeryville, PA, for over 30 years. He married the former Rita Seeback on June 3, 1950, and the couple would have three children, Deborah, Randolph and Diane. In his spare time, Werner enjoyed dancing, attending Philadelphia Orchestra performances, watching sports, traveling and visiting Stone Harbor at the Jersey Shore.
He took trips to both Spain and Germany and participated in reunions of the 819th, held in Las Vegas, Nevada, Tennessee and San Francisco. He was also a member of the Vereinigung Erzebirge in Warminster, PA, which is a social and sports club.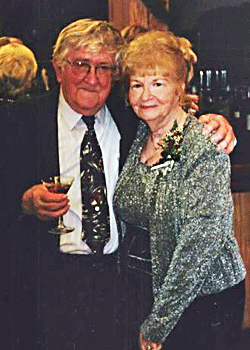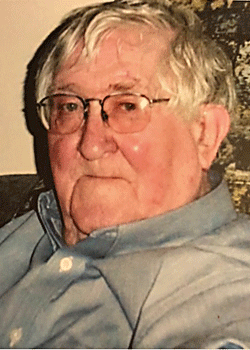 After the passing of his wife Rita, in the early 70s, Werner began a longtime relationship with Thelma Sware (shown with Werner above left), which included her children Richard and Ruth. In 1988, he moved to Warminster, PA, and then in 2007, he moved to Holland, PA. On January 27, 2013, Werner passed away at the age of 90. He had numerous grandchildren and one great-grandchild. He was cremated and his ashes were scattered per his instructions.
I want to thank Werner's daughter, Diane, for providing information and photos for this tribute. In honor of her father, Diane arranged for a brick to be placed in the Evesham Township, New Jersey, Memorial Walkway, commemorating her father's military service.