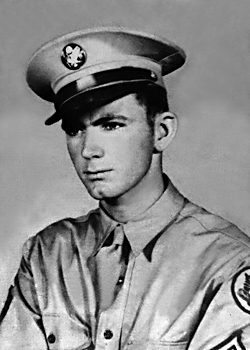 Claudio A. Da Pra
Biography: Claudio Angelo Da Pra "Claude" was born on January 23, 1923, in San Pedro, California. He was the son of Fransisco Rudolfo Zotto Da Pra and Guistina Baldovin and attended local schools through the 12th grade. His enlistment record identifies that he was working as some type of driver prior to the war.
Claude married the former Vivienne Cornelia Meier who had been born in Los Angeles and was the daughter of Johan Meier and Vivienne Fay Michell. The couple would make their home in San Pedro, CA,
Service Time: Claude entered the service on February 20, 1943, at Los Angeles, California. We know very little about his military service but he is mentioned in October 21, 1943, issue of "The Hood Panther", which was the newspaper published at Camp Hood, Texas, home of the tank destroyers. The small article identifies that he was a crew member of the "Pistol Packin Mama" which was an M10 tank destroyer in the Tank Destroyer Weapons Department. The crew consisted of Commander Sgt. Anthony Kozminski, Pfc. Clifford Singer, Pvt. William Clock, Pvt. Boyd Scroggs and Pfc. Da Pra. At the time, Claude was probably assigned to a training battalion or an actual TD battalion that was part of the TDS (Tank Destroyer School) or assigned to Camp Hood for training.
At some point, we believe Claude was sent into the ERC (Enlisted Replacement System) and was probably assigned to a unit that needed personnel. The only other information we know for sure is that he shipped home from Marseilles, France on January 2, 1946, and is listed as being part of Company C of the 1340th Engineer Combat Battalion. At the time, he is listed at the rank of Corporal. It is interesting to me that his military occupation listed on the passenger list is 610, identifying him as an Antitank Gun Crewman.
The 1340th had been overseas long before Claude entered the service but they were at that point, designated as the 2nd Bn, 20th Engineer Combat Regiment. They had been involved in actions in North Africa in 1942 and early 1943, and in Italy in July through November of 1943. By the time he could have joined them, they had shipped to Scotland and were preparing to move into France. They were re-designated as the 1340th while in England and shipped out, arriving at St. Laurent sur mer, France on June 6, 1944, at the same time as the D-Day Landings. They then moved quickly through Belgium and Luxembourg before entering Germany on September 19th.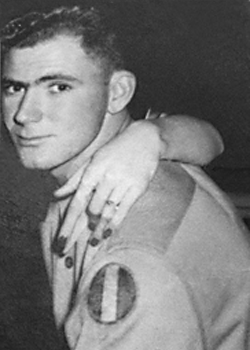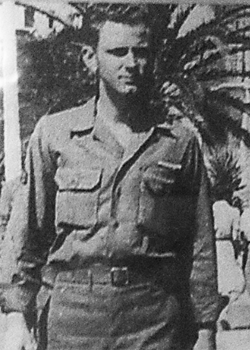 Three months later, they moved back into Belgium, on the north flank of the Ardennes bulge. They moved back into Germany in March 2, 1945, crossing the Rhine later that month on the 21st, and met up with Russian Forces on April 27th. In August, they were stationed in Perezow, Czechoslovakia, on occupational duty. The 1340th received credit for campaigns in the Ardennes, Central Europe, Normandy and Rhineland. Claude received credit for three of the campaigns and was awarded the Bronze Star and Combat Infantry Badge. He also received the EAME Campaign Medal, the WWII Victory Medal, the American Campaign Medal and the Good Conduct Medal. He left the service at the rank of Sergeant.
Claude returned home to Vivienne and went to work at the Star-Kist Tuna cannery on Terminal Island, as an Industrial Maintenance Mechanic. He was actively involved in the design and building of their canning machinery. In time, he moved into outside sales and realized that he could make a business out of selling parts to Star-Kist. He opened his own supply company named, Power Drive and Chain.
The couple would have six children, four girls and two boys, Michele, Michael, Claudia, Catherine, John and Chris. In his spare time, he enjoyed sports and was an avid Dodgers fan. He also loved to tinker.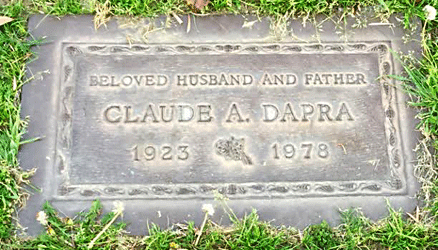 Claude passed away on July 29, 1978, and was buried in the Rose Hill Memorial Park in Whittier, CA. I want to thank Claude's great-grandson Dylan, for providing photos and information for this tribute. I also want to thank FAG contributor Pam, for the use of the grave marker photo.