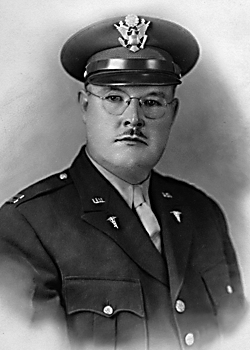 Edward G. Ditch
Biography: Dr. Edward Gerald Ditch was born on August 10, 1901, in Rathmel, Pennsylvania. He was the son of George W. Ditch and Alice Taafe. He graduated from college and became a physician with a family medical practice.
In about 1932, he married the former Mary Louise Samuel who was born in Repton, Kentucky, and was the daughter of George M. Samuel and Josephine "Josie" Smith. Louise was a registered nurse and assisted Edward in his practice.
Service Time: Dr. Ditch was called to war and entered active service on July 23, 1942. He assigned to the 824th Tank Destroyer, serving as their physician. In a photo taken of the unit's officers in October of 1943, Dr. Ditch is shown at the rank of Captain.
The unit was reorganized as a towed gun battalion in May 1943, and shipped out from the New York port on October 14, 1944. They arrived at Marseilles, France, on the 29th and were deployed near Sarrebourg on November 27th. Fighting around Bitche and against Siegfried Line defenses in December, they battled the German Nordwind offensive in January, 1945.
The 824th converted to M18 tank destroyers in March and crossed the Rhine on the last day of the month. Joining the stiff fight at Heilbronn on April 8th, they then advanced to the Austrian border by month's end and cleared the Bavarian mountains, taking Innsbruck in early May. The 824th received credit for campaigns in Rhineland, the Ardennes and Central Europe.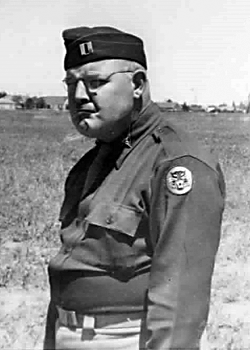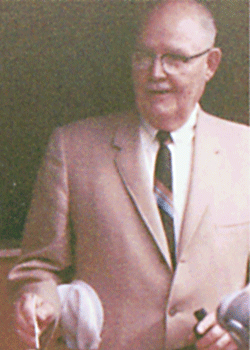 Dr. Ditch's diary from the war mentions Heerlen, Holland, where the 9th Army had set up their Command Post. The 111th Evacuation Hospital was set up there in October 1944 and Dr. Ditch may have been on detached service at the hospital and may have been transferred there at some point. On the night of November 16, 1944, the hospital admitted 272 patients in four hours.
Dr. Ditch returned home to his family practice. He and Louise had four children, Mary, Edward, George and Alice. Dr. Ditch passed away on November 1, 1983, and was buried in the Mount Olivet Cemetery in Caldwell, Ohio. I want to thank the Dr.'s great-son-in-law for providing the information and photos for this tribute. I also want to thank Pamela Myers-Grewell for the use of the grave marker photo.