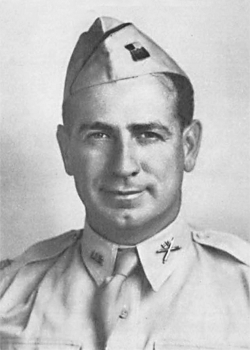 James J. Deery
Biography: James Joseph Deery, "Jim", was born on February 4, 1902, in Providence, Rhode Island. He was the son of Patrick J. Deery and Christina Agnes Deery and attended local schools in R.I.
Service Time: Jim entered the service and was assigned to the 8th Infantry Division in France and Germany from May 1919 to June 1921. The 8th was activated in January 1918, but did not see combat during World War I. Jim was chosen to attend West Point Military Academy, entering on July 14, 1921. He graduated on June 12, 1925, with a B.S. in History as well as a 2nd Lieutenant's Commission in the Field Artillery.
While at the Academy, his nickname was "Demon" and he was an expert rifleman and pistol sharpshooter. He was also on the swimming squad. After West Point, he attended the Field Artillery School in 1931, and as 1st Lieutenant, served with the 4th Field Artillery Regiment at Fort Bragg, North Carolina. From there, he was sent to Hawaii, and served from 1935 to 1938 as a Captain of the 13th Field Artillery Battalion, of the 11th Field Artillery Brigade. He was assigned to the 80th Field Artillery Battalion in November of 1939, when the 6th Infantry Division was reorganized, and continued as the Commander of the 6th Division, Anti-tank Battalion. At the time, he held the rank of Major.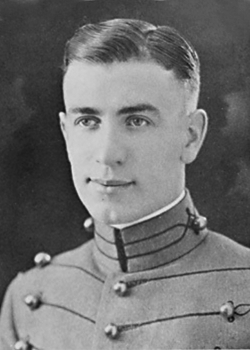 Jim was chosen to command the 606th Tank Destroyer battalion, which had been formed on December 16, 1941, at Fort Leonard Wood, Missouri. He was promoted to Lt. Col. on June 4, 1942, while with the 606th. The unit would take part in the large scale war games in the middle of Tennessee, in the area around Camp Forest and Tullahoma, TN. In a November 2, 1942, TIME magazine article titled "Lessons of the Cumberland," it mentions the frustration the opposing forces had when put up against the TDs, "It's them damned TDs again," growled a sweating sergeant. "I don't see how they git all over the whole damned countryside."
"The TD battalion is commanded by a red-faced, rednecked, reddish-mustached, beetle-browed Irishman, Lieut. Colonel James Joseph Deery, 40, who talked himself (age 17) into the Army in World War I, graduated from West Point in 1925. The battalion, first Army anti-tank outfit, was organized only two weeks before last year's Louisiana maneuvers where it raised hob with Major General George Patton's famed tanks.

After Pearl Harbor the Colonel went to General Staff School at Fort Leavenworth for a refresher course. When he rejoined his men, they were at Major General Andrew D. Bruce's new tank destroyer school at Camp Hood, Texas (from TIME, July 13), proud of setting records in the school's tough commando obstacle course. Not to be outdone, the Colonel then set the record for battalion commanders.

When the destroyermen hit Tennessee, they had had three months of experience fighting tanks, began to bewitch and bewilder their opponents, almost swept them into the Cumberland time after time. They never seemed to sleep during a maneuver. They figured out where the tanks were likely to come (and usually they guessed right), then lay in wait to enfilade them, fleeing during the confusion, firing again from another angle. They reconnoitered all night, all day, maintained constant. radio communication with all units."
Jim was called on to command the 12th Tank Destroyer Group, which was activated on February 27, 1943, at Camp Bowie, Texas. The 12th moved to Camp Hood, TX, on April 14, 1943. In May, he was promoted to Colonel and the unit continued onto the Desert Training Center and Camp Young, CA, on July 27th. They were then transferred to Camp Claiborne, Louisiana, on January 31, 1944, as part of XXI Corps, moving to Camp Livingston, LA, on May 26th, and then to Camp Shanks, New York, on September 17th to prepare for shipment overseas. The unit remained there until they departed from the New York Port of Embarkation on the 24th, and arrived in England on the 30th.
The unit then boarded transports and shipped to France, landing on Oct. 2nd, where they acted as the XVI Corps Anti-Tank section. Moving into Belgium on December 15th, and then into Holland on the 31st, they then moved into Germany on March 3, 1945. The 12th shipped back to the U.S., arriving at the Hampton Roads port on June 27th. From there it was on to Camp Hood, TX, on July 3, 1945, where they were deactivated on November 1, 1945.
Jim would stay in the Army and serve in a number of different assignments, including the Korean War. Jim had married the former Enid Russell, who had a daughter, Margaret Anne, born in 1924, from a previous relationship. He would adopt Margaret and raise her as his own. The family made their home in many different locations depending on Jim's assignments. He received a Master of Arts Degree in 1959.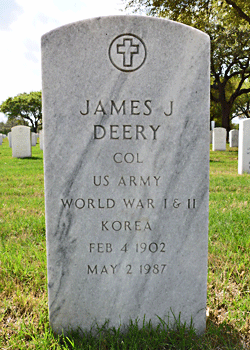 Jim passed away on May 2, 1987, and was buried in the Fort Sam Houston National Cemetery in San Antonio, Texas.
I want to thank E-Yearbook.com for the photo of Jim as a cadet at West Point. That photo is used by permission of Digital Data Online, Inc. I also want to thank George Harcourt for providing the grave marker photo.