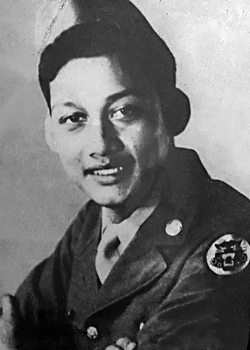 Florencio J. Davila
Biography: Florencio Jaime Davila was born on September 15, 1926, in Marlin, Texas. He was the son of Manuel Davila and Petra Jaime and attended Marlin Elementary through the grammar level. He dropped out to help support his family, finding work with the Southern Bell Company shelling pecans and later working for the Civil Services at Fort Sam Houston.
Service Time: Florencio entered the service on January 5, 1945, at Dallas, TX. He was sent straight to Camp Hood, Texas, for 13 weeks of basic training. At the time, North Camp Hood was being used as an Infantry Replacement Center and a POW (prisoner of war) camp. The POW camp had been set up elsewhere on the facility, for prisoners coming in from Europe.
Florencio was transferred to Fort Ord, California, for staging, prior to shipping overseas. Fort Ord not only served as a training facility but also a Replacement Center, providing troops as needed to units serving in the Pacific Theater.
Florencio was only at Fort Ord for one week before sailing for an "unknown" location. After three weeks at sea, they reached the Marshall Islands where they were joined by two Navy destroyers, which would provide an escort for at least a portion of the trip to the Philippines. Florencio recalled that they soon detected an enemy submarine and after a lot of yelling, the destroyers used depth charges to destroy it.
After 30 days aboard ship, they finally arrived in Manila. Florencio and the other men climbed down a net, which was draped over the side of the ship and boarded landing crafts for transport to the shore. Once there, they were loaded on ships to take them to the reception center. Florencio was assigned to A Company of the 632nd Tank Destroyer Battalion, which had been in the Philippines since October of 1944. The unit was originally organized as a Light Towed Battalion and many of the men had served in the Wisconsin National Guard Personnel of the 32nd Infantry Division but they were equipped with the M10 tank destroyers for combat.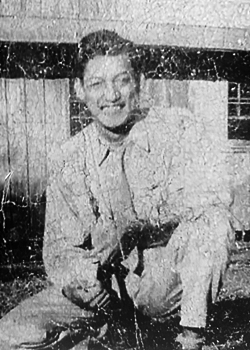 The 632nd operated as an organic unit of the 32nd Division and went to Australia with the Division. They then fought with the 32nd at Aitape and Saidor and went into the battle for Leyte with the 1st Cavalry Division. They later rejoined the 32nd on Leyte. On Luzon, the 632nd was initially attached to the 13th Armored Group but subsequently served with 37th, 44th and 32nd Divisions. Florencio recalled when he and the unit moved into the mountains of Luzon, which is where he got his first combat experience, he served as a gunner and they provided artillery support to enable the 32nd Infantry to advance.
From an interview Florencio gave to Voices of Valor, he said "We didn't know where or what we were firing on, but we didn't ask questions, you did as you were told. We had to set it just right because if you were short, you could drop it on your own men. We had three types of ammunition: We had CPCs, concrete-piercing caps used for pillboxes (concrete military dug-in guard posts); APCs (armor-piercing caps) used against tanks or heavy equipment; and HEs (high explosives)".
The 632nd then moved to a position near to Baguio City, where they would begin training for the invasion of Japan. The men received word that a bomb had been dropped on a Japanese City with a large amount of casualties. It was hard for them to believe that a bomb could cause so much destruction. After they received confirmation of the first bombing and a second bombing a few days later, they finally heard of the Japanese surrender on August 15. 1945.
Some portion of the unit was still in the Philippines in early 1946, leaving for Oahu, Hawaii in February. Florencio was discharged at the rank of Private First Class in July and was awarded the Asiatic-Pacific Campaign, Good Conduct and Philippine Liberation Medals in recognition of the unit's part in that action.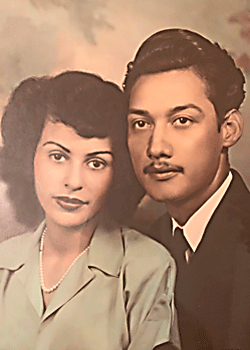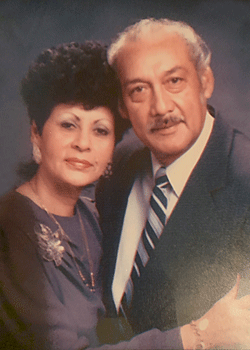 Now back in the U.S., Florencio returned to Marlin and found work with the Southern Pacific Railroad. On January 1, 1949, he married the former Mary Rosas who was born in Otto, TX, and was the daughter of Paramon Rosas and Paula Araguello. The new couple would remain in Marlin and adopt a son, Irie Cuevas in 1953, and have a second son, Robert, born in 1964. Florencio would later work for the Gifford-Hill Company as a truck driver.
In his spare time, Florencio enjoyed fishing, hunting, and playing softball. As the years went on, his outdoor activities have become limited but he still enjoys spending time with his family, especially his great-grandchildren. He is also a member of the LULAC (League of United Latin American Citizens).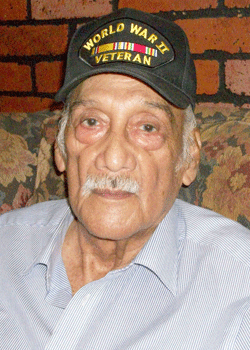 I want to thank Florencio for his service to this country and wish him long life and good health. I also want to thank his granddaughter, Sonya, for providing the information and photos for this tribute.