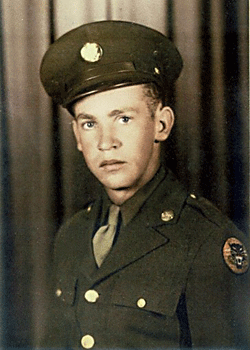 Charles N. Davis
Biography: Charles Newton Davis, "Charlie", was born on December 8, 1923, in Little Creek, Virginia. He was the son of Emmet Milton Davis and Willie Jane Parsell and attended local schools in Little Creek. After leaving school, he worked in the logging industry.
It is believed that in 1943, he married the former Margaret Ellen Powers, who was born in Pulaski County, VA, and was the daughter of Jordan Roosevelt Powers and Clara Louise Long.
Service Time: Charlie entered the service and after his basic training was assigned to Company B of the 825th Tank Destroyer battalion. We do not know exactly when he joined the unit but they continued their training at various military facilities, including Camp Hood, Texas, and briefly at Camp Phillips, Kansas, before shipping to Devils Lake, North Dakota, to assist with the record wheat harvest.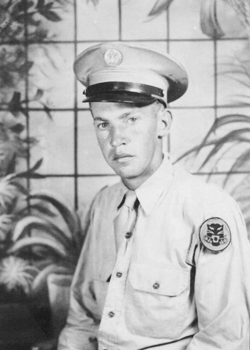 The unit participated in the Tennessee maneuvers from November 9, 1943, to January 15, 1944, before moving to Camp Campbell, Kentucky, and then Camp Breckenridge, KY. It was from there that they boarded trains for movement to Camp Kilmer, New Jersey, to make final preparations for the trip overseas. They shipped out from the New York port on May 30th, arriving in England on June 5th. On July 30th, the men finally went ashore at Utah Beach in Normandy, France.
The unit was assigned to the Communications Zone and 12th Army Group security duties between August and December, 1944, and on December 17th, the battalion entered combat near Malmedy, Belgium. On January 16, 1945, they returned to security duties.
The 825th received credit for campaigns in Northern France, Rhineland and Central Europe. Charlie left the service at the rank of Private First Class.
After returning to the U.S. and to Margaret, Charlie found work with the General Motors Corporation. The family would make their home in Batavia, Ohio, and in his spare time, he enjoyed fishing. He passed away on June 11, 1988, and was buried in the Hidden Valley Cemetery in Little Creek, VA.
I want to thank Charlie's nephew, Dennis, for providing the information and main photo used in this tribute. Thank you also to Find A Grave contributor Becky for use of the grave marker photo and additional photo of Charlie. Thank you to Serge Lemaire for his research to honor these men.