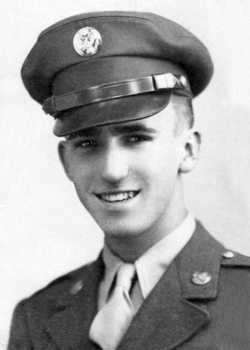 Herman J. Dolanski
Biography: Herman Joseph Dolanski was born on February 23, 1926, in Chelsea, Suffolk County, Massachusetts. He was the son of Vincent Benedict Dolanski and Harriet Gabryela Wiza and attended 5 Holy Martyrs Elementary School and St. Joseph High School, both located in Chicago.
Herman's registration card indicates that he was working for the Solar Company in Chicago, prior to the war. His discharge lists his civilian occupation as General Clerk.
Service Time: Herman registered for military service on February 23, 1944, in Chicago, Illinois. It was also his 18th birthday. We are not sure of the date of his initial entry into service but we believe it may have been in early July of that year, possible the 9th. We believe Herman re-enlisted and we do not have clear documentation on his first service period.
After entering the service, Herman would have been sent for some initial or basic training. Since the war was already in full motion, his training may have been shortened since the need for replacements was very high. Herman's military specialty is listed as supply clerk, which was a critical position depending on the conditions the unit was dealing with at any given time. He also qualified as a Sharpshooter with the carbine.
He was probably sent overseas as a replacement and assigned to Company A of the 825th Tank Destroyer Battalion. By the time he joined the unit, they had already been assigned to the Communications Zone of the 12th Army Group, providing security, which they continued into December. On December 17th, the battalion entered combat near Malmedy, Belgium. By January 16, 1945, the unit had returned to security duties, which they continued until the war ended. The 825th was stationed in Wiesbaden, Germany, in facilities that were affectionately renamed Fort Mieding, after their commanding officer, Lt. Col. Rudolph H. Mieding. The unit performed occupational duties during which time men with enough points shipped home while others waited for other assignments.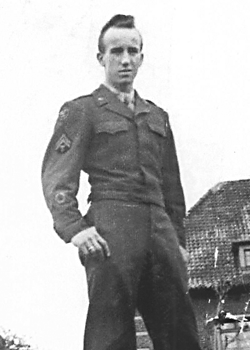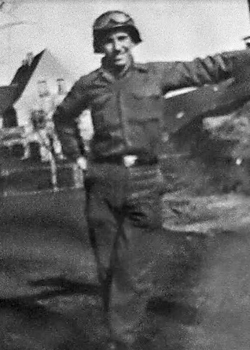 From the documentation we have on Herman, it seems he re-enlisted on October 30, 1945, at Geiselwerder, Germany. There is also documentation showing him shipping back to the U.S., in early December, on a 60-day furlough aboard the ship, Stetson-Victory. At the time, he is listed as still being with a tank destroyer unit and having the rank of Private First Class. He was later assigned to the 971st Engineering Maintenance Company and served with them until shipping home in September of 1946. He was finally discharged on September 30th at Fort Sheridan, IL, at the rank of Technician 4th Grade. Herman was awarded the EAME, WWII Victory and Army of Occupation Medals. Although he did not receive credit for any campaigns, the 825th was acknowledged for their participation in the Northern France, Rhineland, Central Europe and the Ardennes-Alsace campaigns.
Now back in the U.S., Herman found work for the Thom McAn Shoe Company and later as a detective for the Rock Island Railroad. On May 14, 1949, Herman married the former Bernice Mary Varnagis who was born in Chicago and was the daughter of Joseph Varnagis and Anna Stirbis. The new couple would make their home in Chicago and have two sons and two daughters. In his spare time, Herman enjoyed woodworking and stamp collecting. He was also a member of the Knights of Columbus.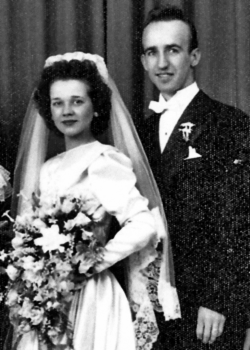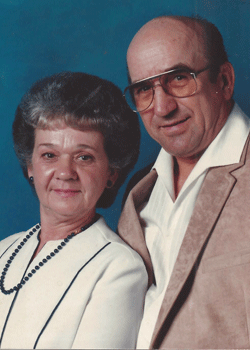 Herman passed away on April 18, 2013, and was cremated. His ashes were preserved by the family. I want to thank Herman's daughter-in-law, Judith, for providing the photos and information used in this tribute.