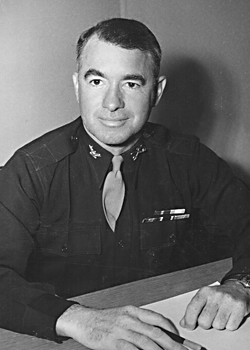 Mark A. Devine, Jr.
Biography: Mark Andrew Devine Jr. was born on July 23, 1897 in San Francisco, California. He was one of five sons born to Mark Andrew Devine and Emma B. Beretta. We have very little information on his early life but he graduated from St. Ignatius University, now the University of San Francisco. It is believed he was a ROTC (Reserve Officer's Training Corps) candidate while at the university.
On February 15, 1923, he married the former Ianthe Virginia Stone in Coblenz, Germany. She was born in Omaha, Nebraska and was the daughter of David L. Stone and Helen Lemmon Hoagland. Colonel Stone was the American Representative on the Rhineland High Commission in Coblenz following WWI. Mark had met Ianthe two years earlier, when she was thrown from her horse and he provided her with assistance. The new couple would have two daughters, Nancy Gail and Helen Stone.
Service Time: Mark was commissioned as a 2nd Lieutenant, Cavalry, at Fort Leavenworth, Kansas, on November 16, 1917. One source says he was commissioned too late to participate in WWI and another indicates he served with the 15th Cavalry during the war. Following the war, he was part of the occupation forces in Germany. Promoted to 1st Lieutenant on September 8, 1919, he was later promoted to Captain on March 6, 1928. He completed the Cavalry School Training Officers Course in 1924, later completing the advanced course in 1934, and became an expert horseman. He was stationed with the Third Cavalry at Fort Myer, Virginia, from 1926 to 1930. In 1937, he graduated from the Command and General Staff School and was promoted to Major in July that same year. He then served at various posts and was Military Attaché in Argentina, Paraguay and Uruguay. Also, that same month, he was transferred to Field Artillery but was relived from that branch in July, 1939. He was promoted to Lieutenant Colonel in October, 1940 and reached Colonel in January, 1941.
When the Tank Destroyer Training Center was established at Camp Hood, Texas, Colonel Devine was the original Commanding Officer of the Officer Candidate School (OCS) Regiment at the T.D.S (Tank Destroyer School). He held that position until he was placed in command of the 14th Cavalry Group, located at Camp Maxie, TX, in May of 1944, his first combat command. They continued training in the U.S., shipping to England in August, arriving in early September. By late that month, they were assembled at Les Pieux, France.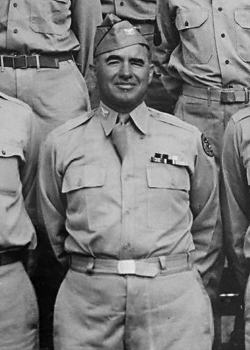 Cavalry groups routinely saw their subordinate squadrons attached to divisions for limited combat operations. This was true of the 14th Cavalry Group. In early October, the 32nd Cavalry Reconnaissance Squadron (CRS) was attached to 83rd Infantry Division, with whom they engaged in several minor clashes. On Nov. 15, they moved to the Clervaux region of Belgium. Attached to 8th Infantry Division, they rested and refitted while patrolling along the Our River valley. By Dec. 10, they were enroute to Vielsalm, Belgium.
Their sister squadron, the 18th CRS, left group control in mid-October and, with 2nd Infantry Division, got their first taste of combat. They pulled into the Losheim Gap region Oct. 22 and came under the control of VIII Corps headquarters. Headquartered in the town of Manderfeld, the troops were deployed in positions between Lanzerrath and Roth.
With the Group now back together, they manned their assigned positions although they were spread very thin over the 7 miles of front line the unit was responsible for.
In the early morning hours of December 16th, the Germans launched their offensive that came to be known as the Battle of the Bulge. The 18th CRS had been placed on the front line, and had small groups of men placed in a number of villages The 32nd was placed in "reserve" 20 miles behind the line. While the 18th was putting up a terrific fight against the overwhelming number of German soldiers, the 32nd had been ordered to the front, arriving in the early afternoon and joining the battle. On the 17th, both units were slowly retreating but continued to inflict heavy casualties on enemy troops. Late that night, Col. Devine turned control of the Group over to his Executive Officer. He was officially relieved as Commanding Officer of the Group the next day. He received a Purple Heart medal, with Oak Leaf Cluster, for wounds received in action. He was awarded the French Legion of Honor and Croix de Guerre and was a member of the Army and Navy Club.
After the war, Mark was serving as Military Attaché in several Central American countries. In 1948, he was assigned as Executive Officer of the Army Intelligence Division in Washington, D.C.
On October 25, 1950, he passed away and was buried in Arlington National Cemetery, Section 2, Site 4720 AR.H. Thank you to Find-a-Grave contributor Loretta Castaldi for use of the grave marker photo.