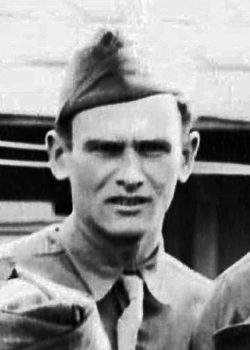 Henry E. Dullum
Biography: Henry Eugene Dullum, "Hank", was born on February 18, 1918, in East Helena, Montana. He was one of two sons born to Eugene H. Dullum and Eva C. Fraser. He attended local elementary schools and graduated from Helena High School in 1936.
He worked at the East Helena Garage as a gas station attendant as shown on his draft card dated October 16, 1940 and the 1940 U.S. Census. He was working at the smelter in East Helena when he entered the military.
Service Time: Hank entered the Army on March 17, 1942, at Fort Lewis, Washington. On March 23, he was assigned to and joined Company B of the 607th Tank Destroyer Battalion which was stationed at Fort Ord, California at that time. He trained with the unit at a number of locations including: Fort Ord, Camp San Luis Obispo, Hunter Liggett Military Reservation and the Desert Training Center, all in California, along with Camp Hood, Texas and Camp Cooke, CA. He was promoted to Private First Class on January 13, 1943. While they originally trained with M10 tank destroyers, the unit was converted to a towed battalion, utilizing the M5 3" gun, on December 15, 1943.
Arriving at Liverpool, England, on April 21, 1944, they continued training. Company B landed at Utah Beach, Normandy, France on June 23rd and supported the advance on Cherbourg, fighting along the Seves River in July. They joined the drive to Le Mans and envelopment of the Falaise Pocket in August, advancing to the Moselle River in September and supporting operations against Metz through November. The unit converted to a self-propelled battalion equipped with M36 tank destroyers in time for the final assault on Metz. Continuing the drive toward the Saar River, they participated in the attack on Saarlautern, Germany, followed by the subsequent fight against the Siegfried Line in December.
On January 1, 1945, Henry, along with several other men, was transferred to the 774th Tank Destroyer Battalion. He earned the Good Conduct, American Theater Service and World War II Victory medals along with the EAME medal and credit for the campaigns of Normandy, Northern France, Rhineland, Ardennes-Alsace and Central Europe. He was discharged on October 2, 1945.
After he returned home, Hank is listed as driving a truck for a hardware store in the 1950 U.S. Census and he later worked for various plumbing shops. By the mid-70's, he was working for the Helena School District. He was a life member of the Cory Dullum VFW Post No. 10,010 in East Helena which was named for his brother. He was also a member of Disabled American Veterans and the East Helena Methodist Church.
Hank passed away on January 26, 1986, and was buried in the Sunset Memorial Gardens Cemetery in Helena, Montana. Thank you to Find A Grave contributor "Sandi Evilsizer Koscak" for use of the grave marker photo.