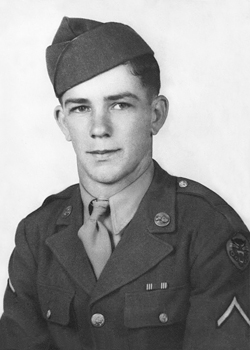 Rufus P. Detiveaux
Biography: Rufus Philip Detiveaux was born on May 9, 1924, in Bourg, Louisiana. He is the son of George Joseph Detiveaux and Violet Chauvin and attended local schools through the grammar level. He later worked as a service station attendant at the local Esso.
Service Time: Rufus entered the service on March 4, 1943, at New Orleans, LA. After his basic training, he was assigned to Company A of the 648th Tank Destroyer Battalion and probably joined them while they were stationed at Camp Bowie, Texas or possibly Camp Hood, TX, where they were assigned to the AUTC (Advanced Unit Training Center).
In March of 1944 the the unit converted from a self-propelled battalion to a towed battalion, using 3-inch anti-tank guns. They continued their training at Fort Jackson, South Carolina, and then participated in the Tennessee maneuvers. During his training in April, Rufus qualified as an Expert with the sub-machine gun. In May he qualified as a Sharpshooter with the rifle. His military occupation is listed as Light Truck Driver, which would have had him driving a Jeep, which he would confirm in discussions with his family long after the war had ended.
On November 26, 1944, the battalion left Fort Jackson to travel to Camp Kilmer, New Jersey, for staging and final preparations for overseas shipment. They sailed from the New York port on December 10th and arrived in England on the 18th. They were quickly prepared for operations in France and soon boarded transports, sailing on January 22nd and landing on the 26th. They remained in Yvetot until February 14th when they traveled to Saint Avold by motor convoy. On the 18th, they were committed to combat near Luneville, France, firing on fortified positions of the Siegfried Line.
Following their breakthrough at Saarbrucken, they were sent to the Ruhr pocket and functioned as Corps Security. The 648th began conversion to M18 tank destroyers in early April while near Landstuhl, Germany. Rufus then had opportunities to drive the unit's self-propelled TDs, as he also related to his family. They ended the war in the vicinity of Ingolstadt and received credit for campaigns in the Rhineland and Central Europe. Rufus was awarded the American Theater, the EAME, WWII Victory and Good Conduct Medals.
Rufus continued to serve as part of the occupational forces and eventually shipped home, arriving back in the U.S. on March 13, 1946. He left the service on March 19th at the rank of Technician 5th grade at Camp Shelby, Mississippi.
Although Rufus didn't speak much about his WWII experiences, he would occasionally provide a hint at an event or two that had occurred. On one occasion he told a story of when he was drving an officer around, possibly on a reconnaissance mission to identify places to set-up camp or position their towed guns to engage the enemy. On this occasion, a grenade or some other explosive round came down near the Jeep he was driving. He quickly bailed out of the vehicle, grabbing the officer he was transporting. As the two men hit the ground, the Jeep exploded. The conversation was immediately ended and he would no longer discuss it and walked away.
We have limited information on Rufus' life after the war but we know he went on to marry Gersie Gautreaux in 1948. She was from Houma and was the daughter of Raoul Gautreaux and Carrie LeBoeuf. The new couple would have six sons and two daughters. Rufus passed away on September 9, 2003, and was buried in the Holy Rosary Cemetery in Houma, LA. I want thank Rufus' son, Timothy, for providing the information and main photo used in this tribute. Thank youu also to Find A Grave contributor "Henry French Brownlee" for use of the grave marker photo.