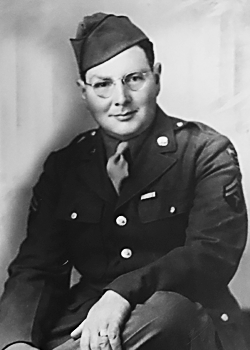 Gilbert DeVries
Biography: Gilbert DeVries was born on July 27, 1913, in Munster, Indiana. He was one of nine children born to Walter DeVries and Nellie Molenaar. Gilbert attended Munster Junior High through the 8th grade but he had to leave school to help on the family farm.
Gilbert would later attend and graduate, in 1936, from the DePaul School of Music. He then became a guitar instructor.
Service Time: Gilbert entered the service on April 9, 1941, at Fort Benjamin Harrison, Indiana. After his early training, he was eventually assigned to the Headquarters Platoon of Company C of the 638th Tank Destroyer Battalion.
He trained with the unit at a number of military facilities, including Camp Hood, Camp Howze and Camp Swift in Texas, Camp Shelby, Mississippi, the 1942 Louisiana Maneuvers, Camp Claiborne, LA, Camp Carabelle, Florida, Camp Livingston, LA, a second set of maneuvers in Louisiana, the Desert Training Center, California, where they trained on the new M18 tank destroyers and Camp Gruber, Oklahoma. During his training, Gilbert qualified as an Expert with the Rifle.
Before going overseas, they moved to Camp Kilmer, New Jersey, for final preparations. On August 30, 1944, the 638th shipped out and arrived at Cherbourg, France, September 7, 1944, equipped with M18 tank destroyers. Entering the line near Prummern, Germany, on November 20th, they supported operations against the Westwall (Siegfried Line). Shifting to the Ardennes sector around Rochefort, Belgium, on December 22nd, the unit's M18 "Hellcat" tank destroyers helped to halt the German offensive in and around Hotton, Belgium (while attached to the 84th Infantry Division).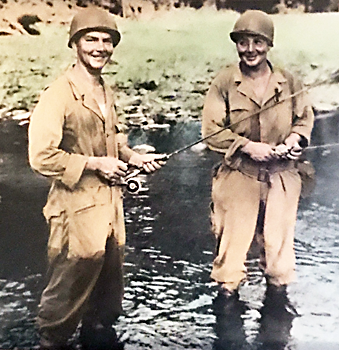 After fighting to reduce the Bulge during January 1945, the 638th supported the Roer River crossing in February. The unit then crossed the Rhine River on April 1st, and advanced across Germanany, reaching the Elbe River, near Wittenberg, on April 24th.
The photo at left shows Gilbert doing a bit of fishing with his brother whom he was able to meet while still overseas in Holland.
Gilbert received credit for each of the unit's campaigns including Northern France, Rhineland, Ardennes-Alsace and Central Europe. He also received the EAME, American Defense and Good Conduct Medals. Gilbert shipped home on July 20th and arrived in the U.S. on the 29th. He left the service from Camp Stewart, Georgia, at the rank of Technician 5th Grade.
After the war, Gilbert worked for the Munster Steel Company and volunteered as a firefighter. On July 27, 1948, he married the former Dorothy Jean Keessen who was born in Lansing, Illinois, and was the daughter of Henry Keessen and Alida Mateer. The new couple would make their home in Lansing and have three children, Mary, born in 1950, Timothy in 1951, and Daniel in 1956. In his spare time, Gilbert enjoyed fishing, hunting, camping and playing guitar.
He was also an active member of the Christian Reformed Church (CRC) his entire life and attended churches in First Lansing, Highland and Hammond where he served as an elder. His interest in the Bible led him to take classes at the Trinity Christian College in Palos Heights, IL.
As with most of the WWII veterans, Gilbert didn't speak much about his experiences but as he was nearing death, and with his friend George Rinsema by his side, he recalled leading a group of soldiers, including Rinsema, to clear out a barn. The men heard footsteps in the loft and Gilbert went to investigate. When he reached the top of the stairs, a German soldier stepped out from behind a barrel. The soldier was armed with a machine gun and Gilbert was forced to shoot. This one enemy soldier could have killed or severely wounded many of the men and Gilbert's quick actions certainly saved them. This incident deeply affected Gilbert and he carried the memory of it throughout his life.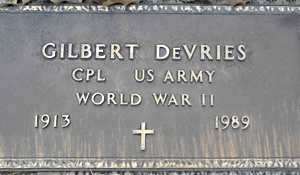 Gilbert passed away on August 7, 1989, and was buried in the Skyline Memorial Park in Monee, IL. I want to thank Gilbert's great-grandson, Jaxson, for providing the information and photo of Gilbert used in this tribute. Thank you also to Find A Grave contributor Rachel White for the use of the grave marker photo.